Please follow this link to search for luxury property for sale in Meribel from the Prestige Property Group.
Think Meribel and your mind will inevitably conjure up images of stunning mountain scenery, gorgeous snow covered chalets and an abundance of eager skiers and snowboarders all ready to hit the slopes, no surprise of course as together with Courchevel and Val Thorens, Meribel makes up part of the Three Valleys Resort, one of the largest linked ski areas in the world. But what happens when the snow stops falling? Well, you may be surprised to learn that this Alpine valley has plenty going on throughout the year, keeping the locals, expats and tourists fully entertained whatever the season.
A Brief History Of Meribel
There's something so very endearing about discovering how a destination which is now so incredibly world famous had such a simple and humbling beginning. Peter Lindsay is to Meribel what Prince Alfonso is to Marbella. Born in Scotland in 1900 to a Scottish Father and Irish Mother, Peter first visited Les Allues in 1936 following the advice of Sir Arnold Lunn, a ski pioneer, mountaineer and writer who was knighted in 1952 for his "services to British Skiing and Anglo-Swiss relations."
Having arrived in Les Allues, Peter took on a 12km off piste run, one of the 12 most famous runs at the time, and instantly fell in love with the place. Around this time he also met Count Jean Gaillard de la Valdenne, a World War I flying ace with a mutual interest in developing a ski resort. Rumour has it, Peter was the creative mind behind the project and de la Valdenne had the money to finance it.
Between them they bought most of the land which is today known as Meribel town and in 1938 created the "The Red Dragon" – the first ski lift which comprised of a giant sled with a tractor engine bolted on top and 19 metal café chairs on the side. At this time the first residences were also constructed, a block of flats called "Les Airelles" unfortunately however, World War II was now upon us, putting a temporary stop to Peter's plans to further develop the resort.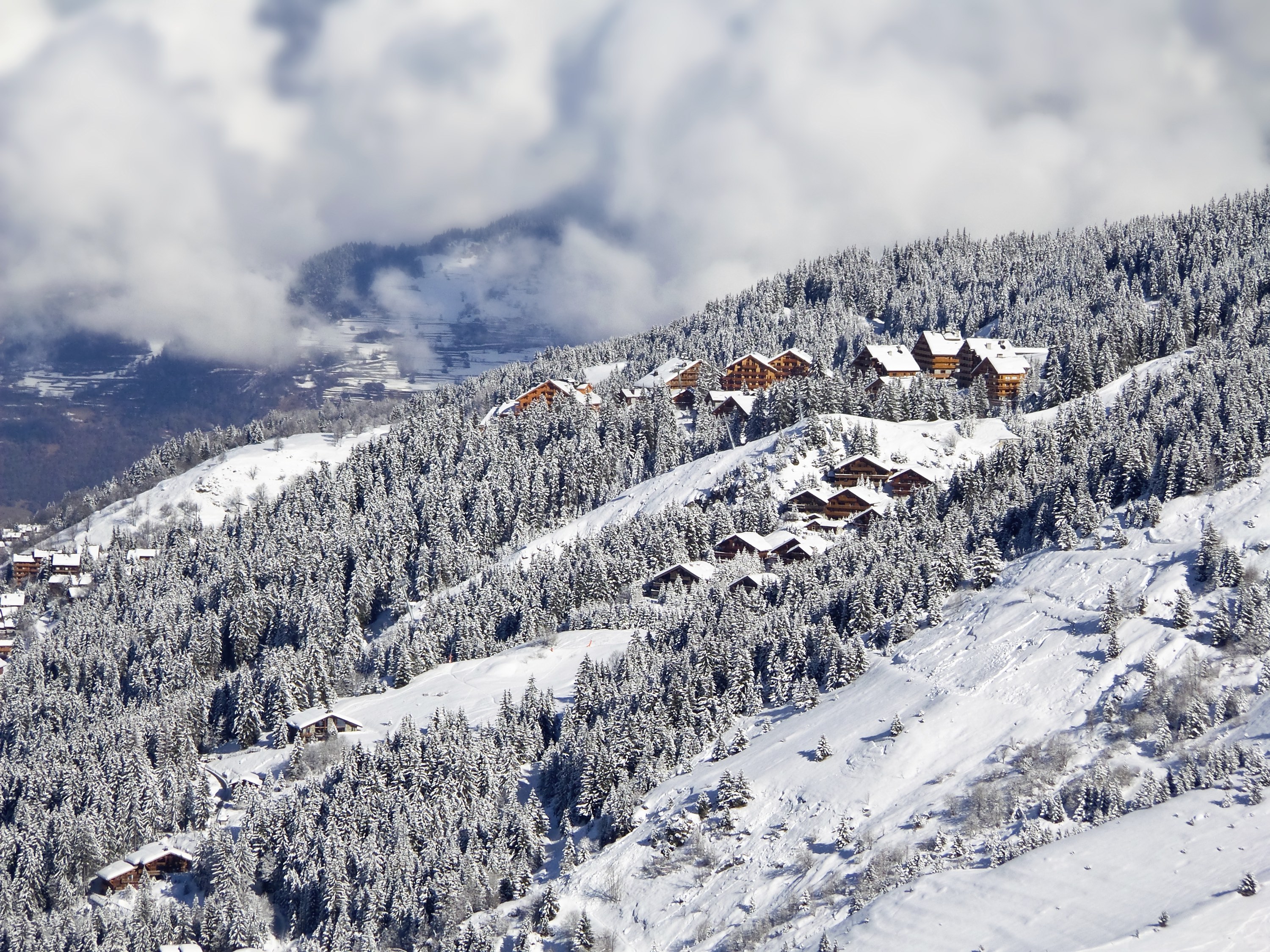 Fast forward six years, the war has ended and Peter and the Count were reunited in Méribel and together with the help of two French architects, the resort began to slowly develop. Always considerate of their surroundings, the architecture throughout remained true to the local area with only wood and stone being used for the buildings and chalets, an ethos that remains today.
Peter retired in 1970 and sadly passed away in 1971 but it was undoubtedly his early creative development and passion for Meribel that led to this becoming one of the biggest and most loved ski destinations in the world.
Party In The Spring In Meribel
Spring is forever my favourite season and in Meribel it's no different. The days are getting longer, the ski lifts are open later, the sun is shining warm and bright and the snow is powder perfect.
Gone are the cold days of winter where skiers and snowboarders are hugging mugs of hot chocolate around the fire. Instead, spring is here and with it comes those oh so inviting al fresco terraces where it's never too early to enjoy a chilled beer, wine or soft drink whilst basking in glorious sunshine.
Ski season is coming to an end and that can only mean one thing, closing parties. Locals are looking forward to the return of normal life after a hectic winter, the seasonal workers move on to the next destination and the tourists are getting ready to go home, but no matter who you are, everyone wants to go out with a bang and the 3 Valleys Charity Day is the party of all parties – and all for a good cause.
Founded in 2002 and originally named La Tania Charity Day, the 3 Valleys Charity Day was inspired by Dan Provost, a season worker who sadly lost his mother to cancer. The event takes place in April each year with all proceeds split between two cancer charities: Sebastian's Action Trust, a respite home for terminally ill children and their families in Hampshire (England) and the Ligue Nationale Contre le Cancer, the French Cancer Research Charity.
The fun antics have traditionally included fancy dress, live bands, a BBQ, outside bar, raffles, auctions, silly games, Harley Davidson rides, an annual egg eating competition and the La Tania Charity Ball. Due to increasing popularity, in 2012 the venue changed to Meribel Village to allow for a safer event with more security and facilities including security staff, marquee/beer tent, comedy area, dance tent, a covered stage, professional PA, security staff, and that all important cordoned off area with toilet facilities.
2015 was a big year for the 3 Valleys Charity Day with Jo Whiley from Radio 1 & 2 as guest DJ and London electronic act The Dub Pistols headlining for the second consecutive year. This was also the year we saw the addition of more food & drink outlets and a second stage as well as the introduction of a VIP Champagne bar/lounge.
Fundraising records are broken year on year with 2017 raising an impressive €45,000 making this the party of all parties and well worth checking out if you are in Meribel in the spring.
Click image for further information: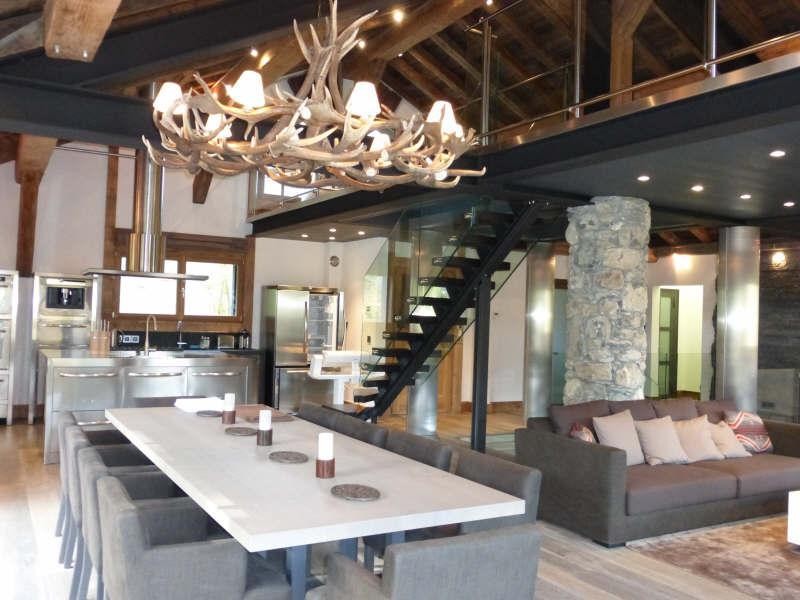 This stunning 9 bedroom chalet is the perfect place to continue your own party when it's all over at the 3 Valleys Charity Day. With 400m2 of living space and 4 large bedrooms, there is an abundance of space here for your to enjoy the finest of Meribel with friends and family.
Designed in a contemporary style that remains in keeping with local Savoyard style, the focal point of this Meribel chalet is the open plan main living area with on trend industrial style kitchen, lounge area with beautiful feature fireplace and spacious dining area with access to one of two terrace areas.
Relaxation is paramount here so when you've finished a hard day on the slopes or perhaps working out in your private gym, you can help those muscles recover with an indulgent soak in the Hamman or whirlpool bath which offers stunning views across the valley.
Currently on the market for £4,005,000 or €4,500,000, this luxury Meribel chalet in the heart of the 3 Valleys offers the perfect Alpine retreat.
Celebrate The Summer In Style
As summer arrives Meribel celebrates a lot of national and local traditions and the second Saturday of every June is one of my personal favourites, National Rosé Day. (You'll discover my other favourite in November if you keep reading). Yes you read that correctly, there's a whole a day dedicated to drinking the wine that you're never quite sure is acceptable to publicly admit liking, not in England anyway. However, pass me a beautifully chilled blush on a hot summer's day and I'll happily prove that I don't have any such qualms about drinking this often overlooked wine colour.
To fully respect the tradition of National Rosé Day, the idea is that you enjoy a bottle of rosé with dinner or invite friends over and all get stuck in and as with most things these days there is of course a hashtag so you can share your rosé loving selfies on social media too. #NationalRoséDay.
June is also the month when the whole of France celebrates music during the Fête de la Musique (World Music Day) which takes place every summer solstice on June 21st. Dating back to 1982, the Fête de la Musique was a government initiative whereby all concerts and performances are free and none of the artists are paid.
Local boy bands, girl groups, classical music, djs, folk bands……… Every type of music you can imagine spills out of bars and restaurants and normal licensing laws are waived to allow celebrations to continue on late into the night, the only restriction is essentially your own stamina so my advice is to treat this event as a marathon and not a sprint. This is definitely one not to miss and a highlight of the summer calendar in Meribel.
Unique to Meribel is the Fête à Fanfoué, a 2 day summer fete filled with eating, drinking, dancing, fireworks and a street fair where locals can show off their wares including cheeses, ciders, meats, jams and breads baked in the village oven. Alpine horn blowers perform and locals turn out donning traditional attire. For the kids there are plenty of entertainers and games so everyone is geared up for the biggest street party of the summer.
Summer draws to an end with the Tsaretta Sportif cycling event which takes place over two days at the end of August. Day one is a 70km gruelling road race in and around the local valleys whilst on day two intrepid mountain bikers embark on an epic ride across the valleys, taking in the Meribel bike park area where plenty of challenges await.
Both days finish in Tsaretta in Les Allues, the local year round nightlife hotspot where there is a fine selection of street food and pop up craft beer bar waiting for participants and spectators alike. This event is open to riders of all ages and abilities.
Click image for further information: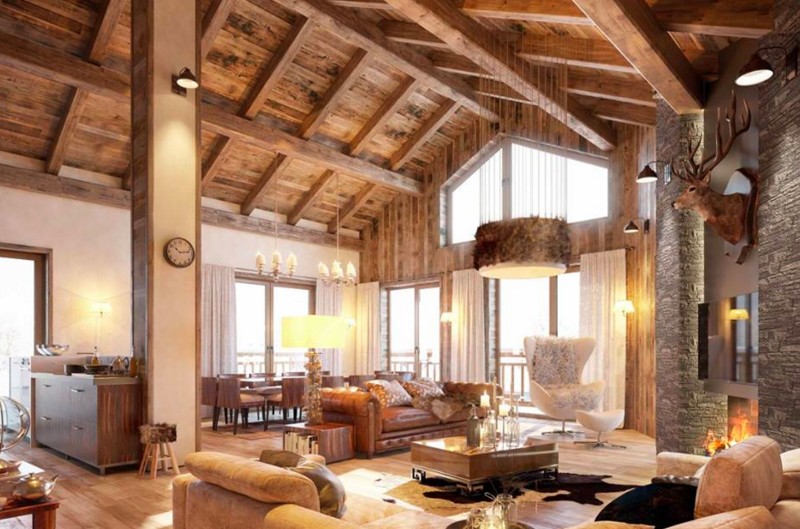 Traditional ski chalet apartment with a modern twist, right in the heart of Meribel.If you're looking for the perfect base which is right at the heart of the action then this could be the ideal apartment for you. Enjoying a privileged location next to sought after Meribel Station, this stunning 5 bedroom apartment is one of just three properties set within a traditional ski chalet.
The interior is modern and spacious with high ceilings and plenty of windows allowing natural light to flow throughout and as you would expect from your location, the panaromic mountain views that surround you are simply breathtaking.
Currently on the market for £1,955,330 or 2,197,000€, this stunning Meribel apartment is just a stone's throw from all the action, whatever the season.
Autumn, The Best Celebration of a Somewhat Mediocre Wine
Autumn in Meribel is the season to recover from a busy summer, whilst also preparing for an even busier winter and there's one stand out celebration thrown in for good measure: Beaujolais Nouveau, my other favourite day in France! An annual event held on the third Thursday of every November, this is the day when millions of bottles of Beaujolais Nouveau wine hit the shelves each year and corks are pulled everywhere to celebrate.
Beaujolais is a wine region within Burgundy in the French Alps and for centuries Beaujolais was generally considered a cheap wine lacking in finesse, to be swigged solely amongst locals and not widely drank or indeed respected elsewhere. It takes just six to eight weeks from harvest to shelf and this short time span means winemakers have to use special techniques and yeasts to speed up the fermentation process and this is why many wine snobs firmly turn their noses up at it.
In the 1950s however, this all began to change. French law dictated that the Beaujolais Nouveau cannot be sold until its official release date which is set annually as 12:01am on the third Thursday in November. Distributors began competing each year in a race to deliver the first bottles to Paris and in the 1970s, winemaker and businessman Georges Duboeuf – a major producer of Beaujolais Nouveau – pushed and publicised the wine, inventing the tagline "Le Beaujolais Nouveau est arrivé!" (The New Beaujolais has arrived). With this, the race from Beaujolais to Paris attracted increasing media coverage and people from all around the world started to acquire a taste for the wine and anticipate its arrival each autumn. Spotlight-seeking wine merchants even went so far as to arrange deliveries by elephant, rickshaw and motorcycle.
The popularity of Beaujolais Nouveau wine and Beaujolais Nouveau Day has since expanded across the globe and now millions of people get involved by popping a bottle of Beaujolais Nouveau on this magical November Thursday. The wine may not be the best in the world but Beaujolais Nouveau Day has become a firmly favourite tradition and many bars in Meribel hold wine tasting sessions to celebrate.
Click image for further information: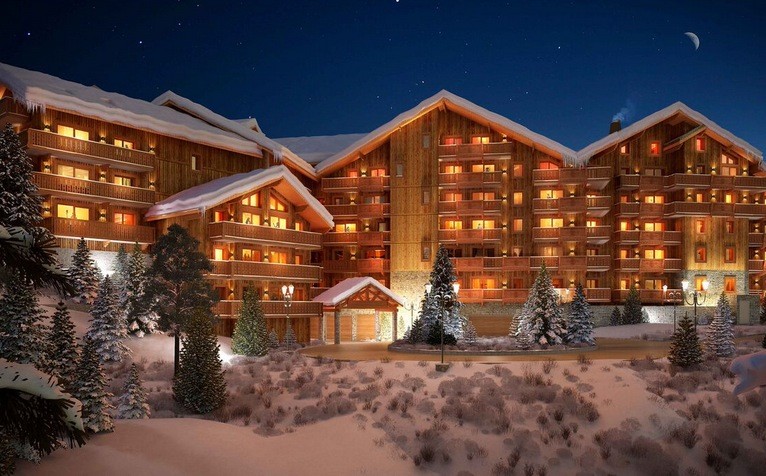 Luxury duplex apartment in a superb new development bursting with mod cons.After a hard day wine quaffing you could be heading home to this exclusive 3 bedroom duplex in a superb new development of 95 apartments. Located in the highly desireable Les Allues within easy reach of ski lifts, this property is currently under construction with an estimated completion date of the fourth quarter of 2018 – perfect timing for the Nouveau Beaujolais 2018 celebrations!
Featured highlights of this superb development include designated underground parking space with direct access, spa, fitness area, heated swimming pool, sauna, Turkish bath, jacuzzi, 24/7 reception, concierge, restaurant, bar and ski shop.
Currently on the market for £979,000 or 1,100,000€ this luxury three bedroom duplex apartment offers the perfect compromise between a second home and a buy-to-let investment.
A Veritable Winter Wonderland
Winter in Meribel is truly magical. Christmas isn't the overly commercialised affair that it has become in many other countries and the festive spirit only really kicks in at the beginning of December once the Christmas lights have had their official switch on. From then on its mulled wine, hot chocolate, music, festive menus, Christmas markets, parades and concerts until the big day itself when the ski lifts are open as usual. Skiing on Christmas morning is a favourite tradition and don't be surprised to see a few skiing Santas whizzing down the slopes.
New Year's Eve sees hoards of revellers hit the town centre ready for the countdown and as the clock strikes midnight champagne corks fly and fireworks go off with an obligatory bang. Local bars all host their own parties – some of which are ticket only so always check – and restaurants lay on special festive menus. Inevitably on New Year's Day the slopes are very quiet as sore heads are nursed so if your own hangover permits, this is a fantastic time to hit the pistes in peace.
January is a great time for skiing in Meribel and is often overlooked. Many people are back at work or school after the Christmas chaos and as a result the pistes are quiet with virtually no lift queues. Of course the weather can be very cold but with that comes excellent snow conditions so it's well worth donning an extra layer and taking advantage of the lull before the mayhem of February.
Meribel's February is the Costa Del Sol's August. It's busy. From the middle of the month French schools are off for four weeks which also coincides with the UK half term week so as a result, ski schools are often booked out for months in advance. If you do come here to ski in peak season, be prepared to have your ego dented as you are firmly out-skied by a six year old. Oh to be young and fearless again!
Click image for further information: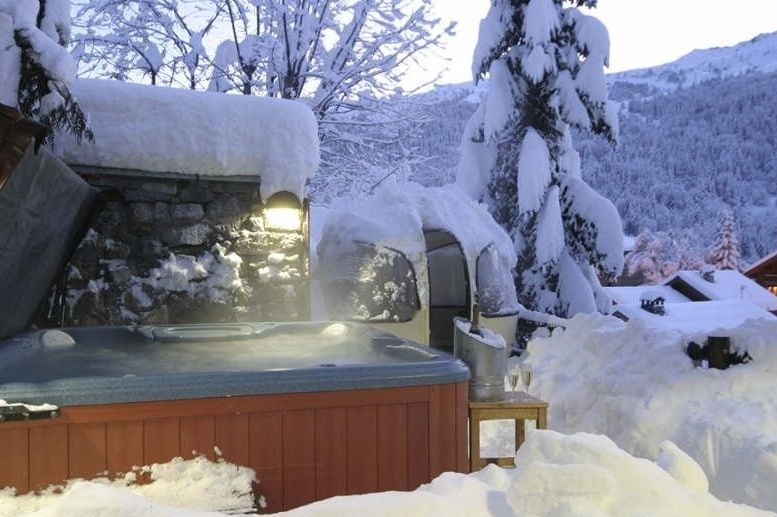 Enjoy the raw beauty of Meribel in the winter from the comfort of your own outdoor jacuzzi.Is there anything more satisfying than sitting in the amazing warmth of your own outdoor jacuzzi, surrounded by snowy mountain scenery? This impressive chalet offers the absolute epitome of Meribel living in the winter.
With comfortable sleeping space for 10-12 people distributed across five double (or twin) en suite bedrooms, this fully furnished chalet also boasts a large dining area, open plan kitchen, sitting room with fireplace and of course, that oh so tempting outdoor jacuzzi. Furthermore, bedroom 5 is the perfect family room as it has an upstairs mezzanine which provides ideal sleeping space for two more children.
This chalet also has the added benefit of having its own self contained studio flat complete with kitchen, bedroom and bathroom, perfect holiday letting potential.
Currently on the market for £1,335,000 or 1,500,000€ this impressive ski chalet comes fully furnished and offers the ultimate cozy winter retreat.
Further Information
For more information on any of the properties featured in this article, please follow the appropriate link or click on the relevant image(s) to complete an enquiry form. Alternatively, please follow this link to search for more luxury property for sale in Meribel from the Prestige Property Group.
For any other enquiries, please contact us here.