Please follow this link to search for luxury property for sale in Ibiza from the Prestige Property Group.
Think Ibiza and you probably think 24hr party scene, world renowned clubs, famous DJs and VIP beach clubs. Partying is big business here and there's no denying that Ibiza does it very very well. However, this small Balearic Island has another side to it which is bursting with nature, history, and beauty – a complete world away from the hedonistic nightlife. So if you're looking to discover the other side of Ibiza, here's our top five things to do.
A Spot of History in Ibiza Town
Located on the southeast of the island, Ibiza Town is a grand and ancient Mediterranean city which is divided into three distinct parts: The Old Town, New Town and the Marina.
The Old Town is essentially a fortified citadel known as Dalt Vila, or Upper Town, together with the old fishing area below. It's a wonderful place to explore on foot with plentiful narrow and winding, steep cobbled streets where you can catch glimpses of breathtaking views through the gaps in the high ramparts as you go. Ladies a little tip, don't wear high heels as we mean it when we say it's steep and cobbly.
Beautiful historic buildings are dotted throughout. Gothic Catalan buildings overhang the streets and sturdy wooden doors open to reveal spacious stone courtyards and intimate private chapels.
Coming down from Dalt Vila leads you to the New Town which is a lot flatter but equally as wonderful to explore. Don't be confused by the name either as there is still a lot of history and originality here including Vara de Rey, a central boulevard lined with beautiful townhouses which date back to the beginning of last Century and nearby Plaza del Parque, the perfect place to relax with a refreshing sangria and enjoy a spot of people watching.
There are many bars and restaurants in the New Town including a vast array of tapas joints, where you order lots of little dishes of food to share with friends. Pintxos (little skewers of meat, fish and shellfish) are also very popular and you can even follow a pintxos trail around Ibiza Town – think of it like a pub crawl, but with tasty food and no regrets the morning after.
Finally, you have the marina area. Ibiza Town's upmarket marina area is actually made up of twin marinas, Botafoch and Ibiza Nueva. Expect luxury cruisers complete with scantily clad sun worshippers on board, high end bars and expensive restaurants. This is one of the places to be seen in Ibiza and if you're lucky you may even see the odd celebrity such as George Clooney and Leonardo DiCaprio who have been known to frequent the marina.
You simply must meander around the quays and jetties of these super marinas as it really is a sight to behold. Some of the biggest superyachts you will ever see moor up here for the season.
As the sun goes down both marinas get busy with a mixture of people either having one last after dinner drink before heading home, or those looking to start the evening off with a pre club cocktail or two.
Click image for property details: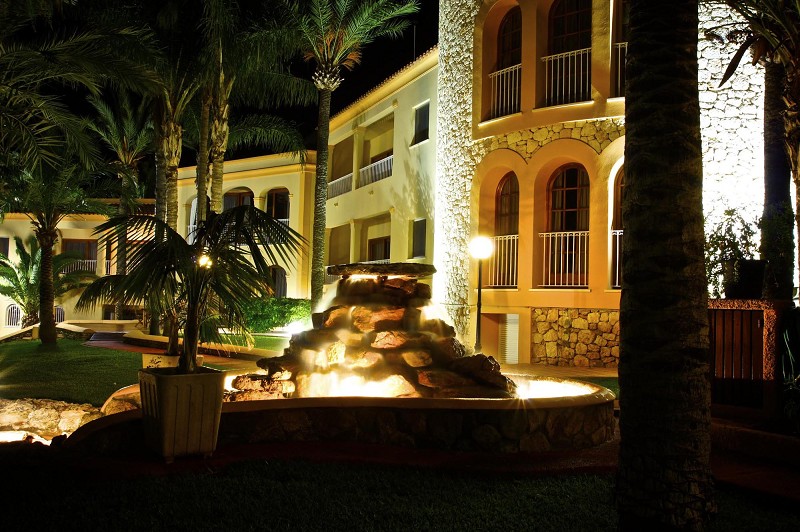 Enjoy the best of Ibiza Town from this magnificent 10 bedroom Villa in Jesús.This stunning 10 bedroom villa is in the perfect location to enjoy all the very best that Ibiza Town has to offer. Distributed over two levels, features include: 10 suites with private terraces and living rooms, a stunning sweeping staircase at the heart of the home, two large dining rooms, two kitchens (one for the summer and one for the winter), several reception rooms, bar, gym and a hammam. There are also several independent apartments for staff, a wine cellar and ample garage space.
This magnificent villa sits on luscious manicured grounds measuring an impressive 9000m2. There is a gorgeous kidney bean shaped pool as the focal point as well as various sitting areas in which to relax and enjoy the far stretching views of Ibiza Town and the Mediterranean Sea.
Currently on the market for £11,375,000 or 12,500,000€, this immaculate villa in Jesús is just minutes away from the vibrant Ibiza town centre and its luxurious Marina Botafoch.
Ibiza's Best Beaches
It would impossible to talk about Ibiza and not mention the beaches. Even if you're not a beach lover there is such a wide variety here that there is bound to be something to tempt even the most reluctant beach goer. Take your pick from over 80 gorgeous sandy beaches, hidden coves or beautiful bays.
At three kilometers long Playa D'en Bossa is the longest beach in Ibiza and also one of the most well known and frequented. It has had a dramatic facelift over the years and it's not unusual for this pale sandy beach to be likened to Miami's super cool South Beach.
During the day it's all about relaxing. There are a variety of beach bars with those gorgeous Bali beach beds, excellent food, great service and laid-back music from DJs. This really is the perfect place to spend a hot summer's day. If you fancy doing more than just nothing, there are some excellent water sports facilities including paddle boarding, catamarans and jet skis.
By night, Playa d'en Bossa becomes the focus of the island's clubbing crowd so if that isn't your cup of tea, and you would in fact prefer a cup of tea, then be sure to move on before the sun begins to set.
Whether you're an early bird or a night owl, Playa D'en Bossa is without a doubt one of Ibiza's hottest locations.
Another island favourite is Cala Llonga, a horseshoe shaped bay on the East coast popular with families. Even the drive itself offers spectacular views from the winding roads and it's worth going early in the morning as the sunrise is simply stunning.
At 100m wide and 180m long, the beach here is wide and sandy and enclaved within a hilly pine tree laden bay on either side, thus creating the perfect sheltered sun trap. The crystal clear turquoise water remains shallow for quite some time making this the ideal spot for families with young children to play safely.
Lining the beach itself there are plenty of snack bars and restaurants with an international influence stemming from its British, Dutch, German and Spanish visitors. Plenty to suit all taste buds.
If you prefer your beach more off the beaten track then Cala Olivera is refreshingly untouched. This serene little cove is predominantly used only by locals looking for the ultimate all over tan but if the nudity doesn't put you off this little hidden gem of a beach is definitely worth a visit.
As is typical of Ibiza, the harder the beach is to find, the better it is and Cala Olivera is certainly no exception. To get here you need to head towards Cala Llonga and follow the signs to Roca Llisa, an exclusive gated community. As you pass through the entrance there's a small rocky path on the left that leads you down.
Click image for property details:
Bring the Mediterranean inside with this gorgeous villa in Roca Llisa.This superb five bedroom villa is located within the exclusive Roca Llisa, widely considered to be the best urbanization of the island. Set on a hillside just 3km from Cala Llonga and overlooking Cala Olivera at its feet, this wonderful property has the added benefit of magnificent 180 degree sea views.
Set within a large plot of 2,262m2 and with a generous total living area of 213m2 this property enjoys a wealth of features allowing you to enjoy the perfect, luxury beach lifestyle.
As well as the five main bedrooms, a main feature of the inside is the wonderfully unique  indoor garden complete with tropical plants which grow above roof level.
Outside there are several terraces, including a rooftop terrace where those amazing views are at their best, as well as a simple yet inviting outdoor swimming pool.
Currently on the market for £3,913,000 or 4,300,000€ this stunning Roca Llisa property offers a wealth of luxury and privacy.
The Hippy Markets
A visit to a hippy market is an absolutely essential experience during your visit to Ibiza. They are possibly as famous as the clubs and beaches themselves and to miss out would be a real shame. There are various markets happening throughout the year, some only during the summer season, and the most well known of them all is the Punta Arabí Hippy Market in Es Caná.
Open every Wednesday from April to October, the Punta Arabi Hippy Market attracts thousands of visitors from all walks of life each year. Over 500 craftsmen and artists sell their wares which include crafts, fashion, jewelry, natural cosmetics and original imports from all around the world. You can literally kit yourself out from head to toe if you want to.
It's not just about shopping of course, there are also plenty of food stalls and a gastronomy area where it would be criminal not to sample a delectable homemade paella amongst other treats.
You can enjoy some fantastic coastal island views if you make it up as far as the red building at the top where you will also find more restaurants and cafes, and even a swimming pool to cool off in.
As well as having the opportunity to spend some money in this famous market you can also be entertained by performances from musicians, artists and living statues. There is a truly original and authentic charm to Punta Arabi which is impossible to recreate anywhere else and it really is well worth a visit.
Click image for property details: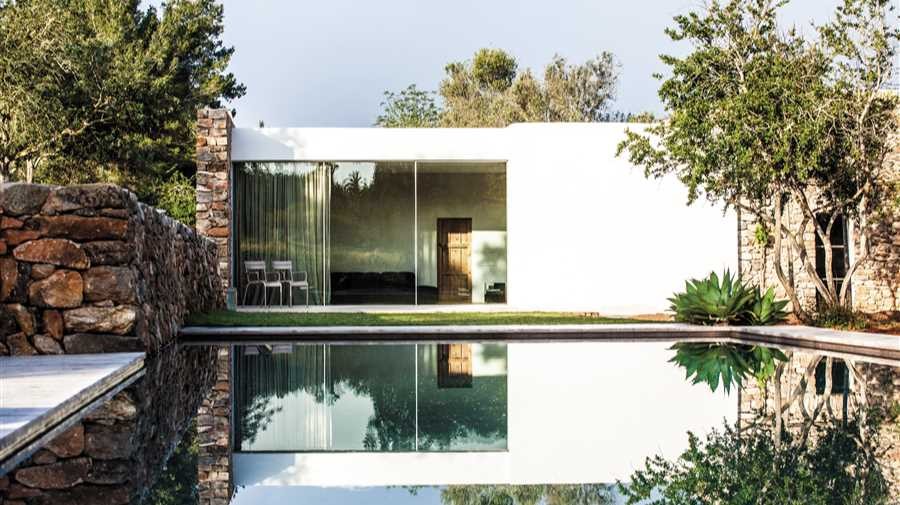 Beautifully renovated traditional finca property in Santa Eularia des RiuJust 10 minutes from the hippy market is this delightful Ibicencan finca which has been fully renovated to create a modern and peaceful haven which remains in keeping with the original style.
This spacious 6 bedroom farmhouse property enjoys a peaceful and idyllic setting on grounds of 25,000m2 which are enclosed by natural stone walls and planted with fruit and olive trees.
Comfortably accommodating up to fourteen people, interior features include six ensuite bedrooms, two living rooms, dining room, kitchen, utility room, guest wc and a study, whilst outside there are two terraces – one of which is covered –  private swimming and landscaped garden area.
Currently on the market for £4,823,000 or 5,300,000€ this Santa Eularia des Riu farmhouse offers the perfect balance between seclusion and accessibility.
The Mystery of Es Vedrá
Declared a natural reserve in 2002, Es Vedrà is an uninhabited small rocky island off of Ibiza's south west coast which is shrouded in mystery, curiosity and rumoured paranormal activity.
Together with Calpe's Peñón de Ifach and Mallorca's south east coast, Es Vedrá forms part of what is known as the "triángulo del Silencio" or Triangle of Silence, Spain's version of the Bermuda Triangle.
Local fishermen claim to have seen strange lights and objects leaving and entering the water around Es Vedrá whilst many swimmers are adamant that they've heard loud sub-marine noises in the area, with huge shoals of fish changing direction in response to them.
Some of the more bizarre rumours even go as far as to say that there is a UFO base hidden under its waters with many claiming to have seen an unidentified flying object hovering above. Whilst the more religious and divine claim to have seen an apparition of the Virgin Mary here.
Regardless of your own beliefs, Es Vedrá is one of Ibiza's most visited natural attractions and the theories only add to the mystery and wonder of this little rock in the sea.
Click image for details of similar properties: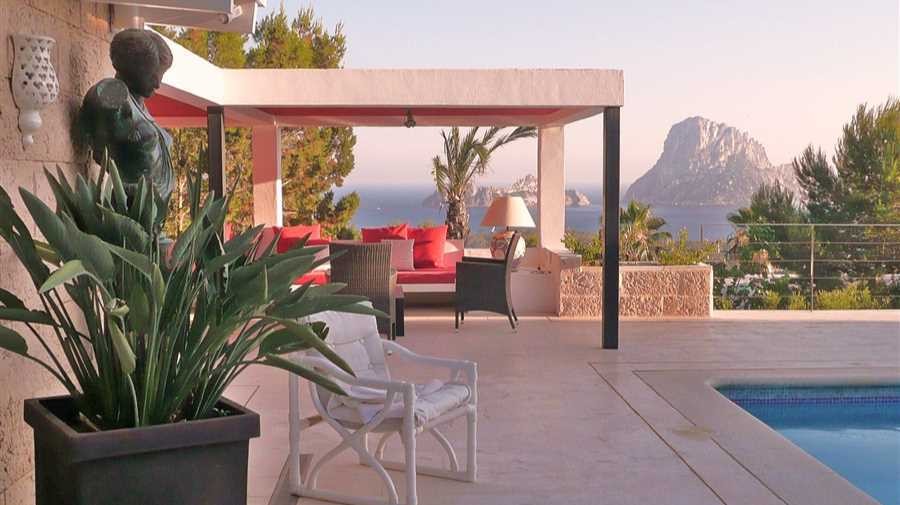 Spectacular views of the Es Vedra rock from this luxury villa. Superb seven bedroom villa in the lovely residential area of Cala Carbo offers absolutely stunning views of the famous Es Vedra rock.
The main house is distributed across three floors with the ground floor home to a large double living room with fireplace, dining room and large open fully equipped kitchen with 2 pantries. On the first floor there is an exceptional master suite with with Jacuzzi bath, large dressing area, study and two terraces whilst on the lower ground floor there is a guest area with 3 bedrooms, 2 bathrooms and a storage area.
Furthermore there is a separate guest apartment with its own living room, open plan kitchen, 2 bedrooms, bathroom, covered terrace and garden as well as an additional one bedroom staff apartment.
Outside there is a beautiful swimming pool surrounded with ample terraces, a covered outdoor living area with bar, barbecue area including traditional Ibicenco oven, hammam and shower with WC.
The south oriented 2,500m2 plot is entirely fenced with automatic gate and the splendid Mediterranean garden is home to 11 mature palm trees.
This villa was on the market for £3,549,000 or 3,900,000€ it has now sold, but click the image to see a selection of similar properties in Cala Carbo.
The Famous Ibiza Sunset
The Ibiza sunset is one of the most magical you can witness and no holiday experience is complete without seeing it for yourself. Even those who have been here and done it before, will do it again 100 times and the only way to enjoy it is to ensure you have an uninterrupted view.
Almost the entire north and west coast are suitable for watching sunsets in Ibiza, and there are plenty of places to choose from to enjoy a legendary sunset be it in isolation, or with a crowd.
Natural Park Ses Salines offers a sunset with a difference as the sun doesn't disappear at sea level, but instead loses itself in the mountains and the waters of the salt flats. On the right day when there is no wind the sun reflects perfectly in the water, creating a picture perfect mirror image.
To watch the sunset over dinner head to the Pearl Restaurant, one of the most exclusive dining spots on the San Antonio strip. Access is via a VIP entrance on the promenade and you should expect romantic fairy lit tables which are all facing out to sea, guaranteeing an exquisite sunset experience.
For cocktails at sundown head to Cafe Mambo, the hottest pre party bar and long standing island favourite. You can choose to enjoy front row sun set seats on terra firma or for an altogether different experience, set sail on one of their Sunset Boat trips for a thrilling power boat ride.
Click image for property details:
Perfect panoramic sunset views over the bay of San Antonio.This impressive property located between San Agustin and Cala de Bou boasts panoramic sea views across the bay of San Antonio, perfect for watching the sunset from the comfort of your own home.
The main house accommodation features: 8 suites including 3 with kitchenette and terraces, 2 living rooms opening onto a terrace, dining room with access onto a terrace with barbecue, large professional kitchen with cold room and bodega, library, laundry room and pantry.
There is a separate stone house comprising of 1 double bedroom, bathroom, shower room and open plan living, dining and kitchen area. Whilst the third dwelling is home to 2 bedrooms, bathroom and similar open plan living, dining and kitchen room.
Set on a plot of 3 hectares, outside features include a large and impressive swimming pool, private tennis court, pond and vegetation including palm trees and olive and fruit trees.
Currently on the market for £7,820,000 or 8,000,000€ this magnificent 11 bedroom villa in San Augustin is a veritable example of luxury real estate in Ibiza.
Further Information
For more information on any of the properties featured in this article, please follow the appropriate link or click on the relevant image(s) to complete an enquiry form. Alternatively, please follow this link to search for more luxury property for sale in Ibiza from the Prestige Property Group.
For any other enquiries, please contact us here.