Please follow this link to search for luxury properties in the Italian Lakes from the Prestige Property Group.
Think of the Italian Lakes and you will inevitably conjure up images of crystal clear waters, dramatic mountain backdrops and pretty, bustling towns. Whilst of course this is very true, each Lake is also totally unique and has its own individual charm and appeal. To help you differentiate your Como from your Garda, and your Maggiore from your Lugano, here's our essential guide to the Italian Lakes.
Lake Como – The Glamorous One
Lake Como is without a doubt the most showbiz of the Italian Lakes. Many famous movies such as Casino Royale, Star Wars Episode II and Ocean's Twelve were all filmed here, Brad and Angelina tied the knot here, and many A-Listers including George Clooney, Madonna, Donatella Versace and Sir Richard Branson all own or have owned villas here. So what is it that makes Lake Como such a celebrity favourite?
Known locally as Lake Lario, Lake Como boasts some of the most stunning and dramatic scenery of all the lakes. An impressive 28 miles long and shaped like an upside-down Y, snow-covered Alps provide a stunning backdrop at the northern end, whilst on either side, you are hemmed in by steep, wooded hills. This truly is a tranquil paradise.
Como itself is the capital of the province and is home to some 80,000 residents. Widely regarded as the silk capital of the world, this bustling city is built around a magnificent cathedral and is brimming with charming piazzas and a wonderful cafe culture to match.
Whilst here, you simply must visit Bellagio. The inspiration behind Las Vegas' famous Bellagio Hotel, this gorgeous little town fondly referred to as "the pearl of the lake" is home to breath-taking Baroque gardens, beautiful cobbled streets and world-class restaurants.
The water's edge is lined with Belle Epoque villas with fabulous facades whilst the hillsides are home to a mix of apartments, townhouses, villas and palaces.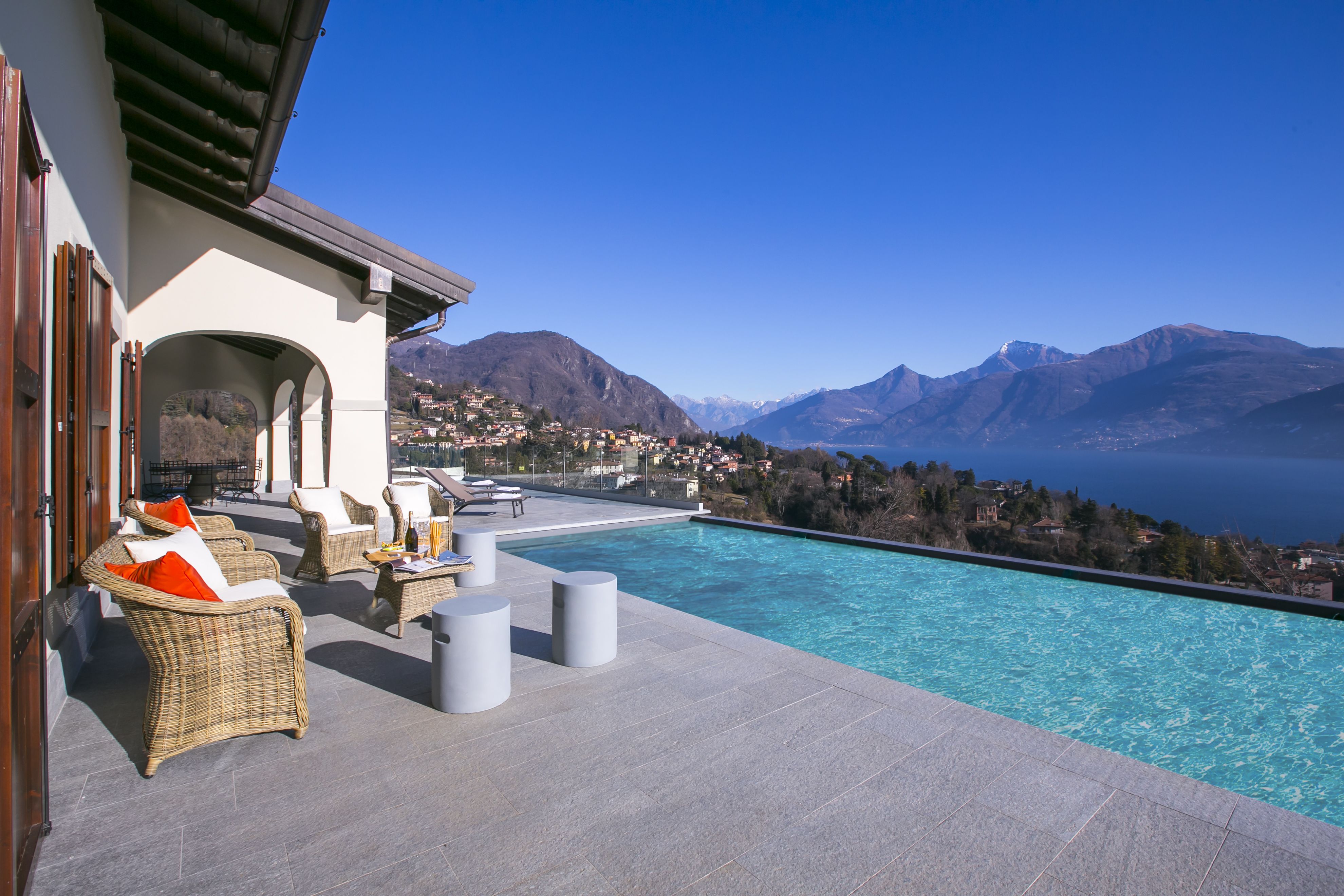 Discover Lake Como, the Italian lake of choice amongst celebrity A-Listers. This luxurious 6 bedroom villa is located in Menaggio, one of the most charming towns of Lake Como. Newly built and with a flexible layout across two floors, every aspect of this incredible property has been expertly designed to capitalise on those incredible views.
Outside, the 2000m2 garden is home to an expansive south east facing terrace, purpose-built alfresco dining area, sleek infinity swimming pool and private garage. All set in the glorious sun-drenched hills of Menaggio, this is Lake Como living at its very best.
Lake Garda – The Sporty One
Spanning an impressive 370 square kilometres, Lake Garda is the largest of the Italian Lakes and is surrounded by three distinct regions – the Lombard plains, the Alpine Trentino Alto-Adige and the rolling hills of Veneto.
The area boasts a unique microclimate which provides a particularly balmy Mediterranean feel, perfect for ensuring that the abundance of local olive groves, citrus trees and vineyards all thrive happily. Wine is big business here and star players like Valpolicella, Soave and Bardolino are just some of the vineyards waiting to tempt you on Garda's shores.
If you enjoy the active, sporting life then there are plenty of activities here to suit everyone, including even the most hardened of adrenaline junkies. The expanse of water, variety of countryside and mix of terrains make this a real haven for recreational activities.
The mountains and hillsides provide the ideal opportunity to try your hand at hang-gliding or paragliding, an altogether different way to enjoy the spectacular scenery. If you're more of a terra firma kind of person then the mountain biking here is a must and there are various trails to suit all abilities.
The lake itself is home to every type of water sport you can imagine including sailing, windsurfing, kite-surfing, pedalos and diving. If that wasn't enough, then the ultimate thrill seekers can try their hand at canyoning which is essentially travelling in canyons using a variety of techniques including scrambling, climbing, jumping, abseiling, and swimming.
Add golf, horse riding, hiking, skiing and thermal wellness centres to the mix and this truly is a place that can offer everything to everyone.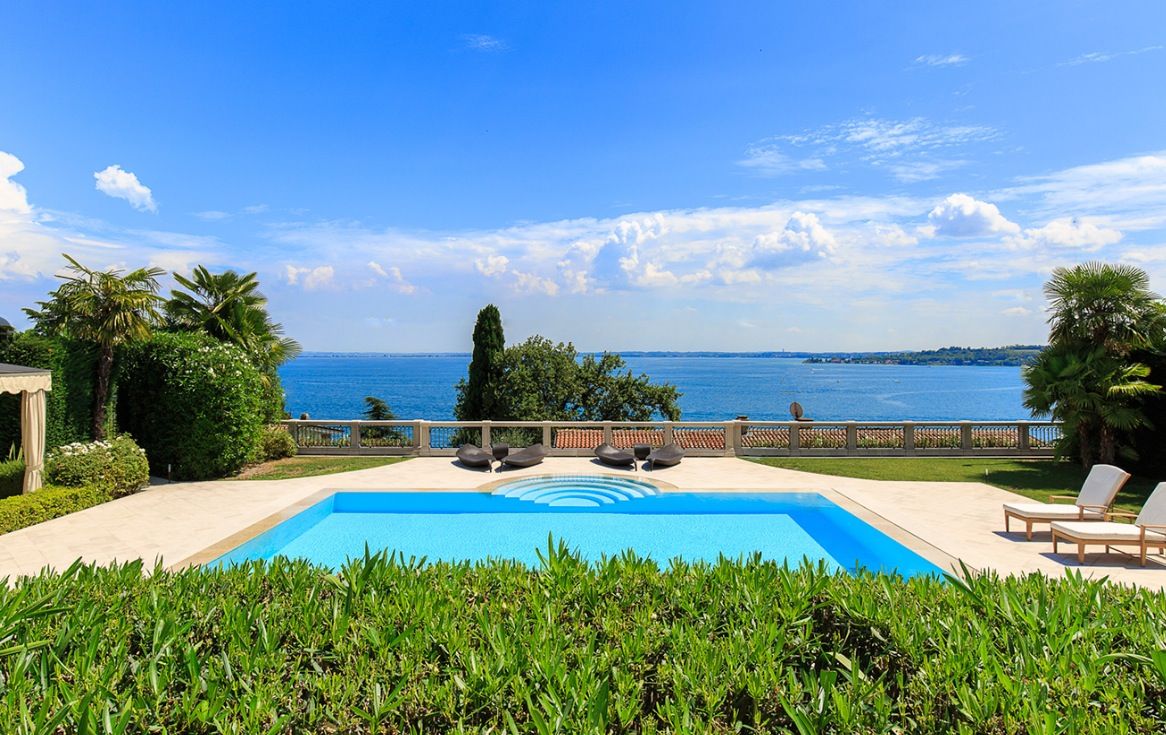 If that all sounds a little too much then why not simply relax from the comfort of your own home. This elegant villa enjoys an extremely privileged location just 50m from the edge of Lake Garda. With six bedrooms distributed across three floors, this property has been very much designed so you can enjoy every aspect of its idyllic environment in complete comfort.
From the marble and natural stone boundary which ensures your total privacy, to the lake view terrace and veranda for your sheer pleasure, this stunning home brings the best of Lake Garda to your own front door.
Lake Maggiore – The Charming One
Lake Maggiore, the second largest of the Italian Lakes, straddles both Italy and Switzerland, making this an ideal place to explore both of these beautiful countries. Renowned for its pretty villages, beautiful architecture and elegant palm-lined promenades, it's almost impossible not to fall in love with this place.
The towns and villages surrounding Lake Maggiore are as small and quaint as they are warm and charming. Verbania, fondly named "the garden on the lake", has a wonderful buzz about it and is home to a spectacular botanical garden with over 20,000 species of plants from around the world. In addition, there is also a lakefront park, museum dedicated to landscapes, and a national park at the town's doorstep, all making it easy to see how this town earned its nickname!
An absolute must-see is the Borromean Islands, an enchanting grouping of five small landmasses originally purchased by the Borromeo family to be used as their own private playground. Of the five, three of them are still owned by the family and collectively they boast an aristocratic Baroque palace, botanical gardens with rare plants, a mansion house, shops and restaurants.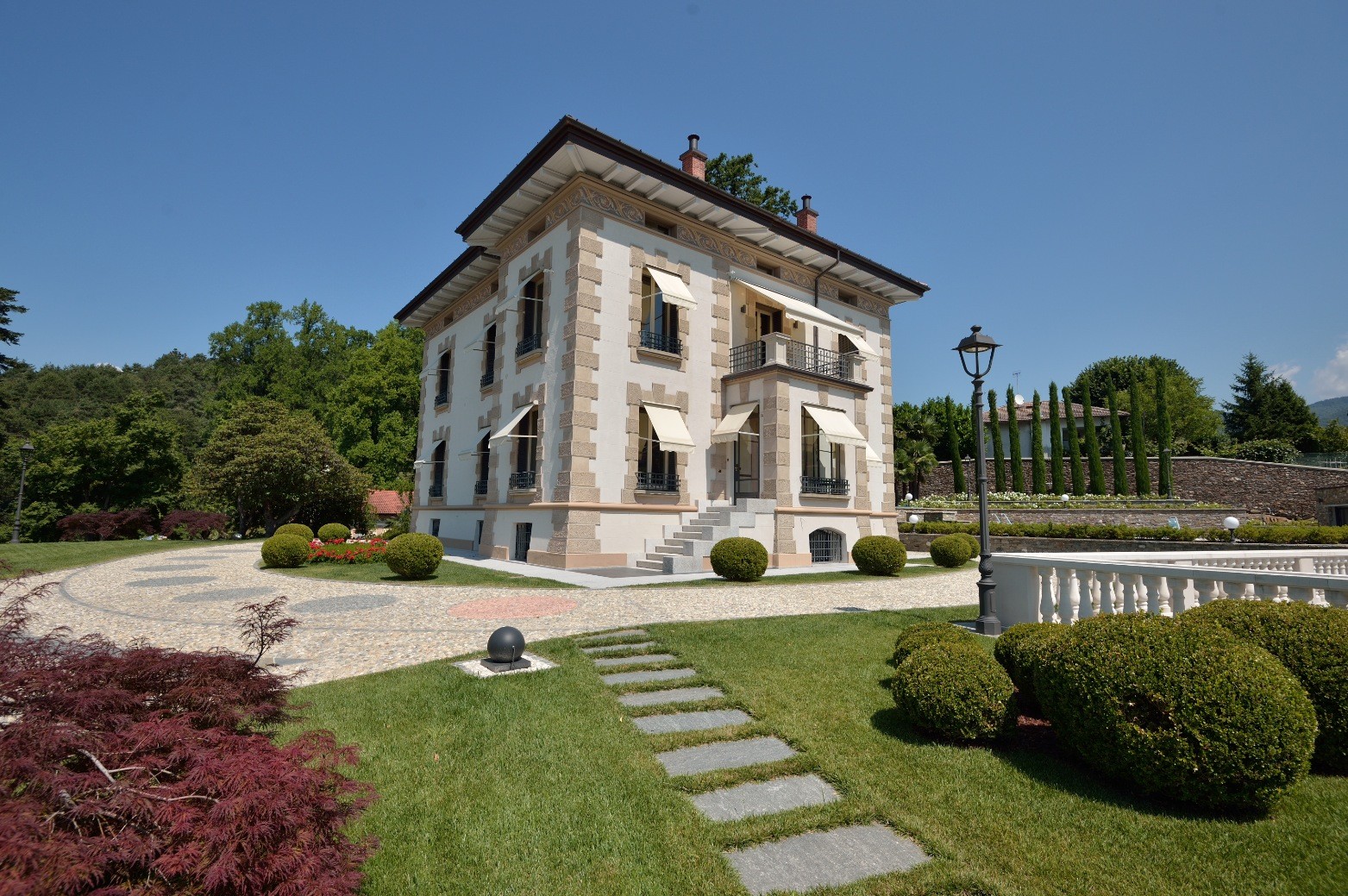 If you're tempted by Lake Maggiore then this recently renovated, neoclassical style villa is undoubtedly one of the most luxurious and prestigious properties currently available in the area. With a total of eight bedrooms distributed between the main house and two self-contained apartments, this property enjoys unrivalled panoramic views of Lake Maggiore and the Borromean Islands.
Lake Lugano – The Sophisticated One
Lake Lugano is a glacial lake also located on the border between Switzerland and Italy and it gets its name from the ever so sophisticated and vibrant city of Laguno. Whilst the Lake is part Swiss and part Italian, the city itself is located firmly in Switzerland. However there is a real fusion of the two cultures here as Italian food, architecture, art and shopping are all firmly embraced, along with the Italian language.
Surrounded by pretty towns and villages which nestle amongst the mountains and hills, Lake Lugano is the perfect place to discover medieval churches, parks, gardens, museums and art galleries.
Of course, no visit to the area is complete without a copious amount of chocolate so why not take a day trip to the Alprose chocolate factory. Renowned for producing excellent Swiss chocolate, you can learn all about the history of chocolate making and stock up on those all important free samples.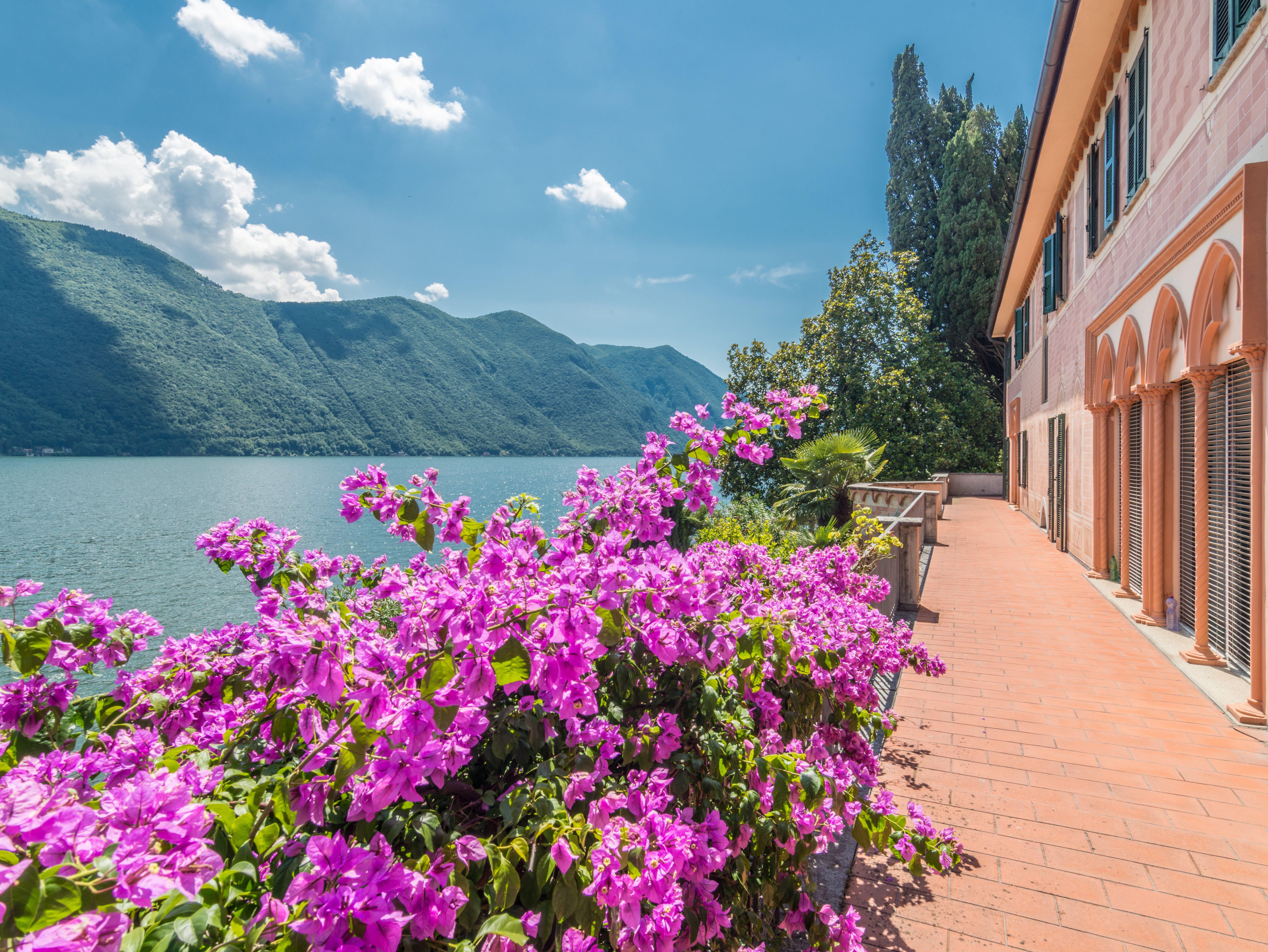 Lakeside properties simply don't get much better than this one. Built at the start of the 20th Century and standing proud on the shore of Lake Lugano, this impressive villa has its own promenade and direct lake access as well as a private dock able to accommodate one large boat or two smaller ones. With five bedrooms in the main house and an additional two bedroom caretaker's house, this stunning property is a veritable Lugano show stopper.
Further Information.
For more information on any of the properties featured in this article, please follow the appropriate link or click on the relevant image(s) to complete an enquiry form. Alternatively, please follow this link to search for more luxury properties in the Italian Lakes from the Prestige Property Group.
For any other enquiries, please contact us here.