Please follow this link to search for luxury property for sale in Sitges from the Prestige Property Group.
Located just 35km south west of Barcelona, Sitges is a veritable jewel in the Catalonian crown. A well-loved resort town since the 19th Century, today, this mini metropolis is not only best known for being Spain's most famous gay holiday destination, but it is also incredibly popular with families, singletons and retired couples alike. So just what is it that makes this little town so very special?
The Magical History of Sitges
Sitges is a small town with a big personality and a fascinating history to match. A history which is still very evident today, in more ways than one. Years ago, young and ambitious local Sitges men headed to the new world (particularly Cuba) with big dreams of finding work and earning their fortunes. Many did of course, and on their return they would build over-the-top ornate houses, designed for the specific purpose of showing off their newfound wealth. This local trend continued over many many years, so much so, that by the beginning of the 20th Century Sitges had successfully cemented its reputation for being a rich town. The people of Sitges became naturally proud and protective of their town and this strong sense of self-preservation meant that Sitges was able to retain its authenticity and charm at a time when poorer neighbouring villages were being swamped with high rise buildings.
Click image for property details: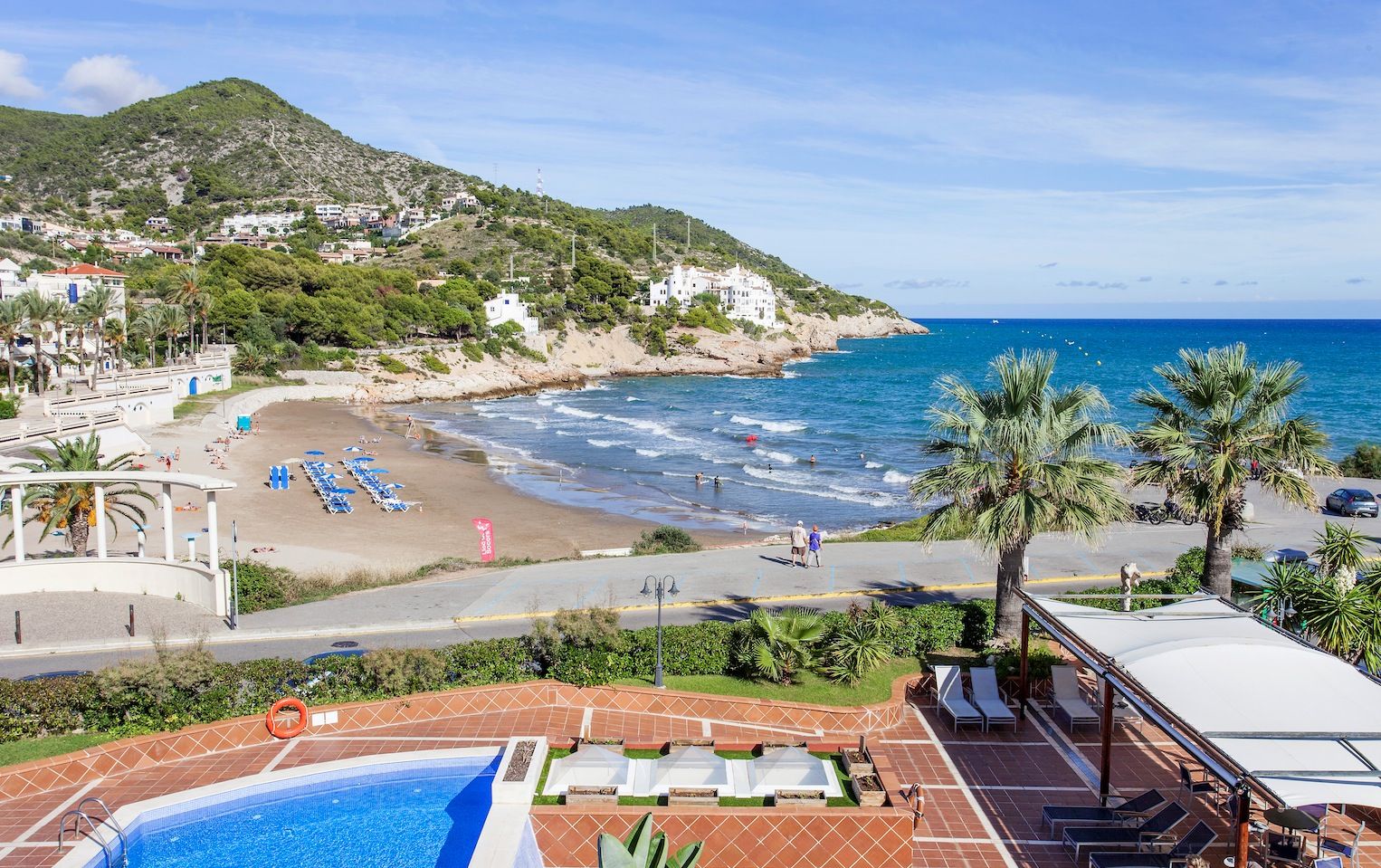 Fast forward to Franco's dictatorship, and Sitges became somewhat of a refuge for artists and freethinkers. As such, it became a key location in the Modernisme movement, paving the way for the likes of Picasso, a national treasure who remains one of the world's most loved artists of all time. Today, there are reminders of Sitges' fascinating history and colourful past at almost every turn. Take a walk through the narrow and winding streets of the Old Town and you will discover a wonderful mix of both traditional architecture and classic art deco buildings, the contrast filling the air with a genuine sense of magic.
Click image for property details: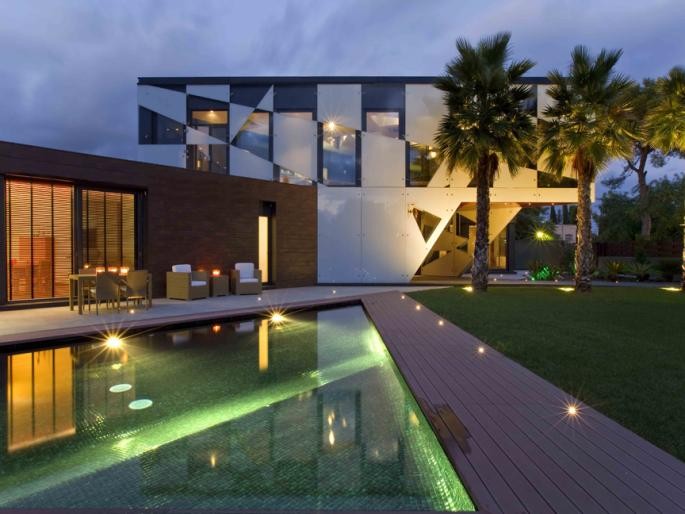 Paying homage to those wonderful art deco influences of the 1930s, this recently built luxury villa is in one of the most exclusive areas of Sitges and boasts a spectacular modern design. Located just 500 metres from the sea, this stunning property features five en-suite bedrooms, open plan living, two reception rooms and an immaculately landscaped garden complete with large swimming pool and jacuzzi. Enjoy your own perfect slice of modern-day Sitges.
A Sitges for Everyone
It's often been said that Sitges is to Barcelona what Brighton is to London: a cosmopolitan, mini metropolis with a laid-back vibe where everyone is welcome. Whether you're young or young at heart, gay or straight, single or a family, there truly is a Sitges for all of us. The stunning seafront is lined with palm trees and its 17 beaches can be counted amongst the finest in Spain. Whether you choose to head to the family, nudist, or gay-friendly beaches, they are all reassuringly safe, welcoming and unintimidating. Thanks to the relative underdevelopment and subsequent lack of hotel rooms, Sitges simply doesn't cater for package holiday deals to the masses. Many day visitors flock here from nearby Barcelona for a bit of relief from busy city life, and the tourists who do choose to stay here, are incredibly respectful of both the town and its people. Outrageous "loutish" behaviour doesn't exist here, day or night, so not only are visitors actually very welcome in the eyes of the locals but also, Sitges really does feel like a very safe place to be, particularly for those traveling alone or with young children. There aren't many destinations left that can make such claims, but in the case of Sitges, it is most certainly the case.
Click image for property details: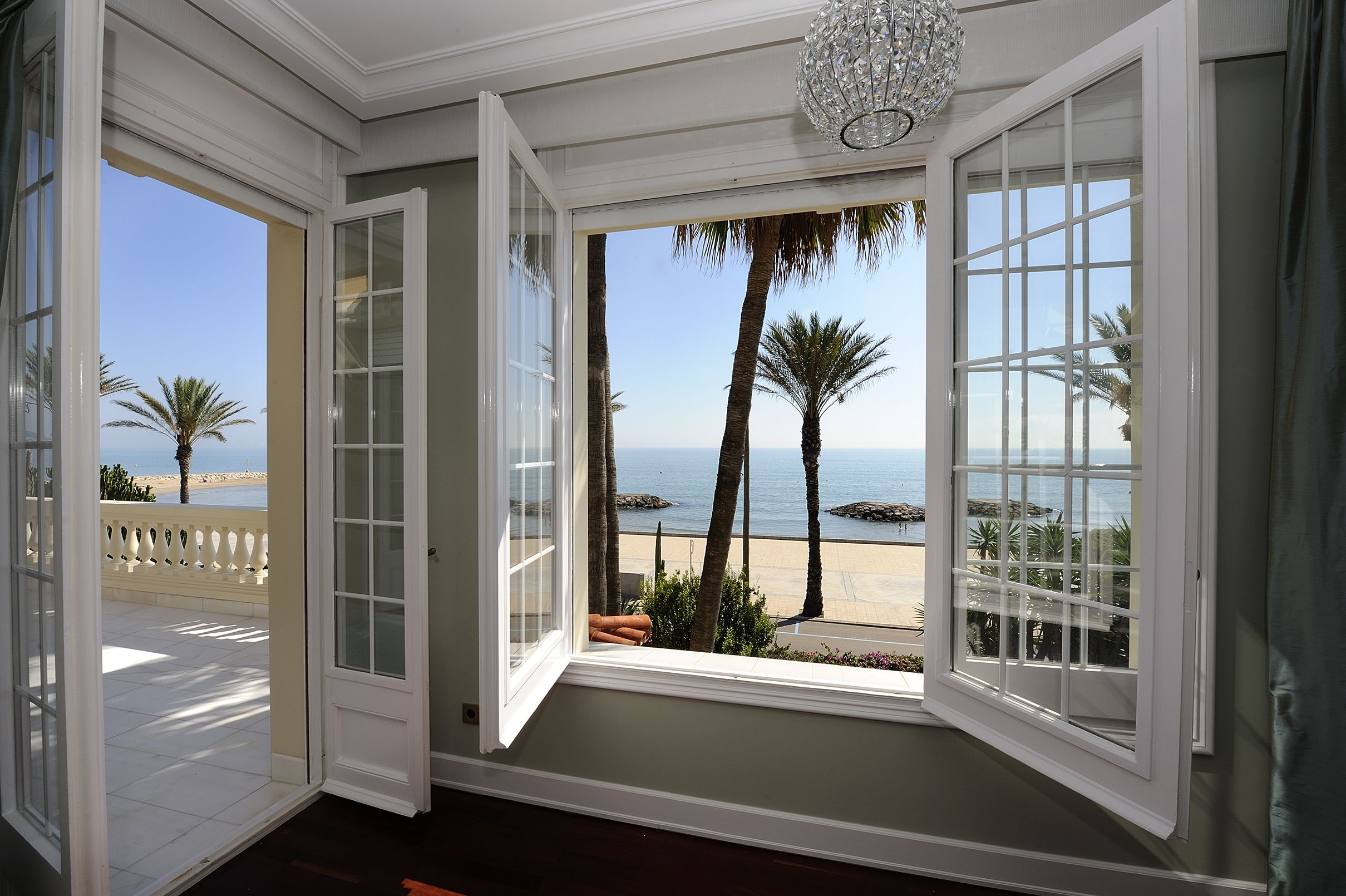 Enjoy the magic of that glorious palm tree-lined promenade from the comfort of your own home in this stunning seven bedroom villa. Located in a privileged position directly on Sitges' fabulous Paseo Maritimo, this colonial-style mansion has been meticulously and elegantly refurbished by renowned interior designer Sandra Valenti of VBCN. With six bedrooms in the main house and a separate one bedroom guest house, features of this luxury villa include, master suite with dressing area, gym, beautifully manicured 2000m2 plot, large swimming pool, al fresco chill out area with barbecue and dining area, and of course, those incredible, uninterrupted sea views.
A Pink Pound Fuelled Economy
As you would expect from a place described as a "gem" or a "rare find" or any other almost too good to be true adjective, Sitges doesn't come cheap. In fact, it boasts some of the highest property prices in Europe and if you are looking to make this your home, you'll be fighting off competition from big-name Barcelona footballers and new technology millionaires. Taking a moment to wander around some of the most lucrative parts of the town you will soon see the wealth for yourself as your open-mouthed gaze is met by palatial mansions, modern masterpieces and breathtaking pools and gardens, all looking fresh out of glossy interior design magazines. Wealth practically oozes from every corner of Sitges and there is not so much as a cobblestone out of place on the esplanade. During a time when so many other towns are still recovering from a financial crisis that hit the country hard, here, you would barely think that there had been so much as a blip in the economy. Restaurants happily remain open all year round with a bustling clientele, and even the fanciest amongst them are busy even in the low season. Clothes shops are thriving and the upmarket boutiques, pharmacies, tapas joints and clubs have a consistent and steady flow of customers. So just what is the secret to Sitges' success? The reality is, the so-called pink pound, euro and dollar have all played a vital part in the local economy in Sitges for decades and it's the gloriously, liberal attitude of this little town that keeps the visitors coming and the economy stable.
Further Information
For more information on any of the properties featured in this article, please follow the appropriate link or click on the relevant image(s) to complete an enquiry form. Alternatively, please follow this link to search for more luxury property for sale in Sitges from the Prestige Property Group. For any other enquiries, please contact us here.