Please follow this link to search for Lake Geneva or Lake Annecy property for sale from the Prestige Property Group
With serene views, natural wildlife, watersport activities, and physical and mental health benefits, it's easy to see why lakeside property is one of the most in demand property types amongst overseas buyers. With Italy, France and Switzerland topping the European destination list, discover the real joys of waterfront living, from the vast and impressive Lake Geneva, to the smaller but no less beautiful Lake Annecy.
Lake Geneva – The Jewel of Western Europe
Lake Geneva is a vast, crescent-shaped lake which reaches an impressive 45 miles at its longest point and 8.7 miles at its widest. With a total area of 224 square miles, 60% of this stunning body of water lies in Switzerland, with the remaining 40% in France. If that doesn't paint a picture of the sheer size of it, we can also tell you that it takes approximately 2.5 – 3 hours to drive around its perimeter on a good road. It's huge.
There is a wide variety of activities for visitors of all ages and abilities. Land lovers can visit adventure parks, play a round of golf, go zip lining, visit museums and enjoy walking and cycling trails, whilst those looking for more water action can try their hand at parasailing, tubing, speedboat hire or perhaps just a romantic boat cruise.
The city itself is often dismissed as merely a gateway to the Alps for the thousands of skiers that pass through every year. However, Geneva is bursting with history and culture and although not the country's capital (that's Bern), it continues to prove a popular choice for expats. Mercer's 2018 Quality of Living Survey ranks Geneva as the 8th best city in the world for expatriate quality of living.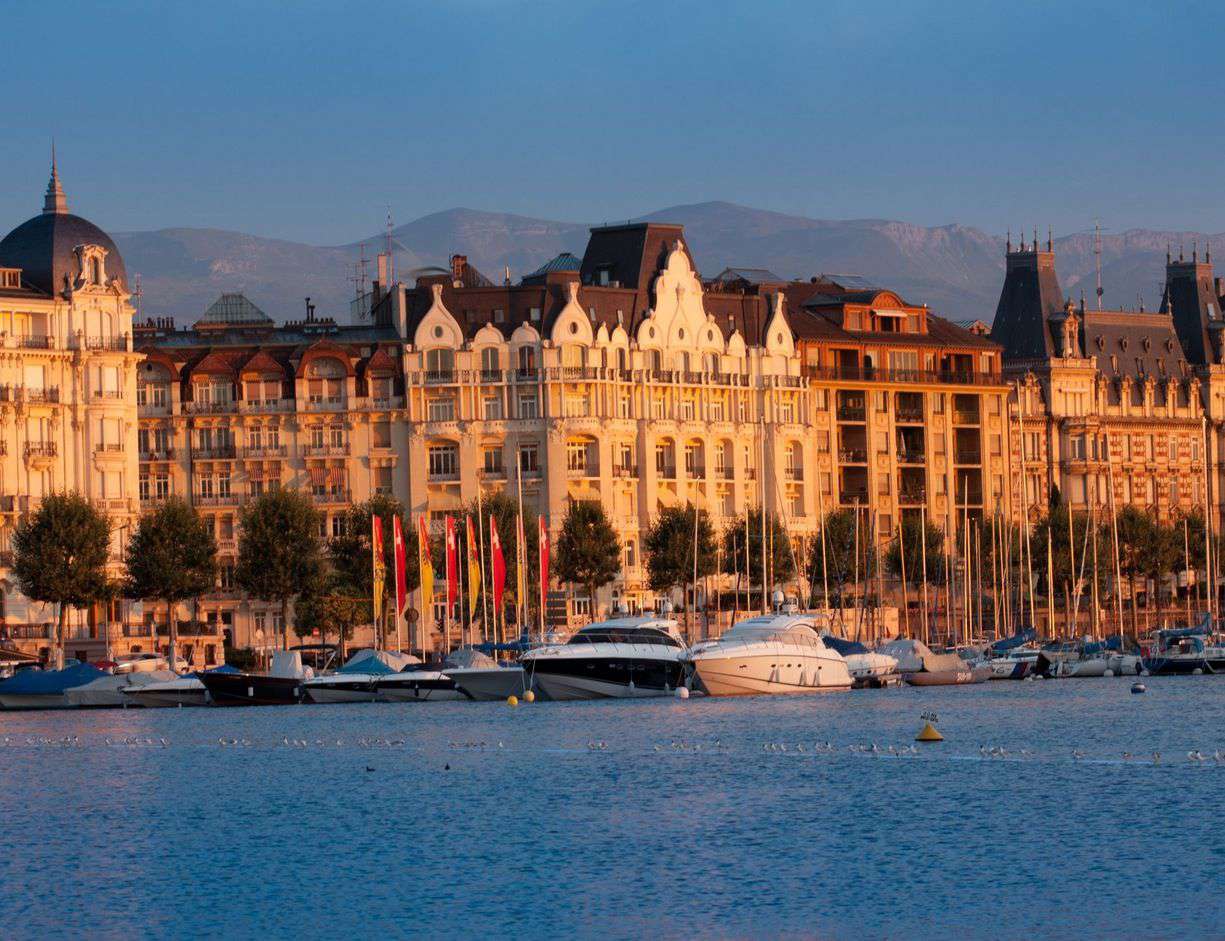 Other popular towns and cities along the shores of Lake Geneva include Lausanne, the second largest city on the lake and fourth largest in Switzerland. Lausanne is less than an hour from Geneva and boasts a charming old town and beautiful cathedral that stands tall above the city and the lake. Lausanne is also home to the International Olympic Committee and Olympic Museum which displays more than 10,000 Olympic artefacts.
Vevey is a small lakeside town with a big personality. As the home of Charlie Chaplin for 25 years and his final resting place, Charlie's World is a dedicated Charlie Chaplin experience in Vevey which includes his manor home, Hollywood style studio tour and stunning gardens and parkland. A wonderful opportunity to immerse yourself in the magical world of cinema and get to know one of the most surprising artists of the 20th century.
Montreux, at the tip of the lake, is a must for music fans as the city hosts the world-famous Montreux Jazz Festival every July, as well as an annual Freddie Mercury Memorial Day. Château de Chillon, just 5 minutes from Montreux, is a stunning castle right on the water's edge and is one of the most visited castles in Europe.
There is so much to see and do around Lake Geneva it is absolutely worth taking a day cruise on the water to explore all the major towns and attractions. There are many lunch and dinner cruises available as well as regular ferry boats which cross the shores and connect the Swiss Towns to the French, a popular commute to work for many. If you're looking for your perfect Lake Geneva property, house hunters should definitely take to the water for an alternative view on what could be your new neighbourhood.
Click the image for property details: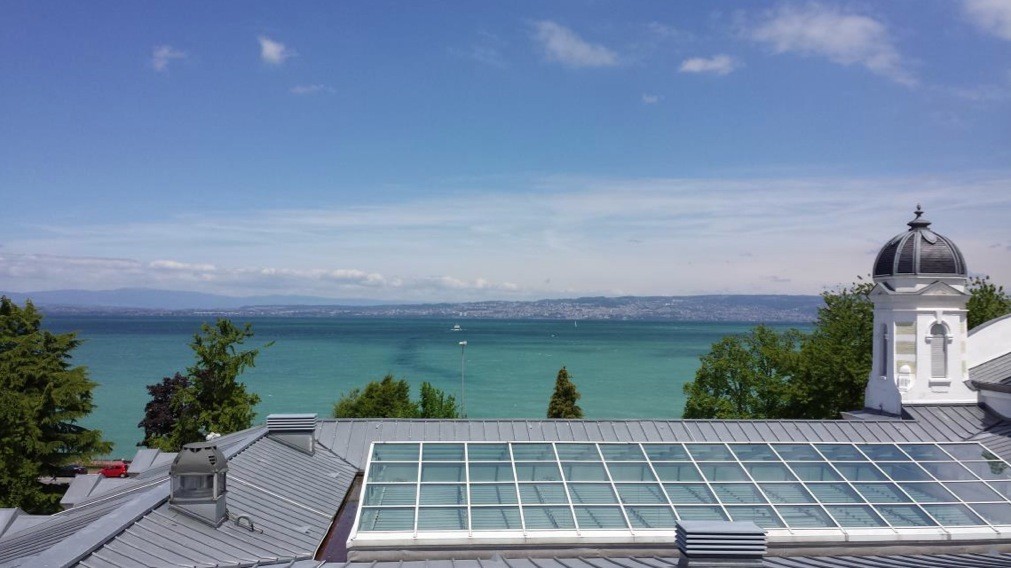 Lake Annecy – The Purest In Europe
Enjoying a privileged location within close reach of both Switzerland and Italy, France's Lake Annecy is internationally renowned for its beautiful landscape and fantastic water quality. Perceived by the French as being the perfect place to live, its lakeside location and proximity to world-class ski resorts allows Annecy to compete in desirability with the likes of Geneva and Montreux.
Carefully safeguarding its own future, measures have been taken over the last 50 years to protect the lake and ensure its water quality. As a result, it is now officially recognised as having the purest lake water in Europe. Annecy also hit headlines recently as France's official contender as host of the 2018 Winter Olympics, unfortunately missing out to South Korea.
Click the image for property details: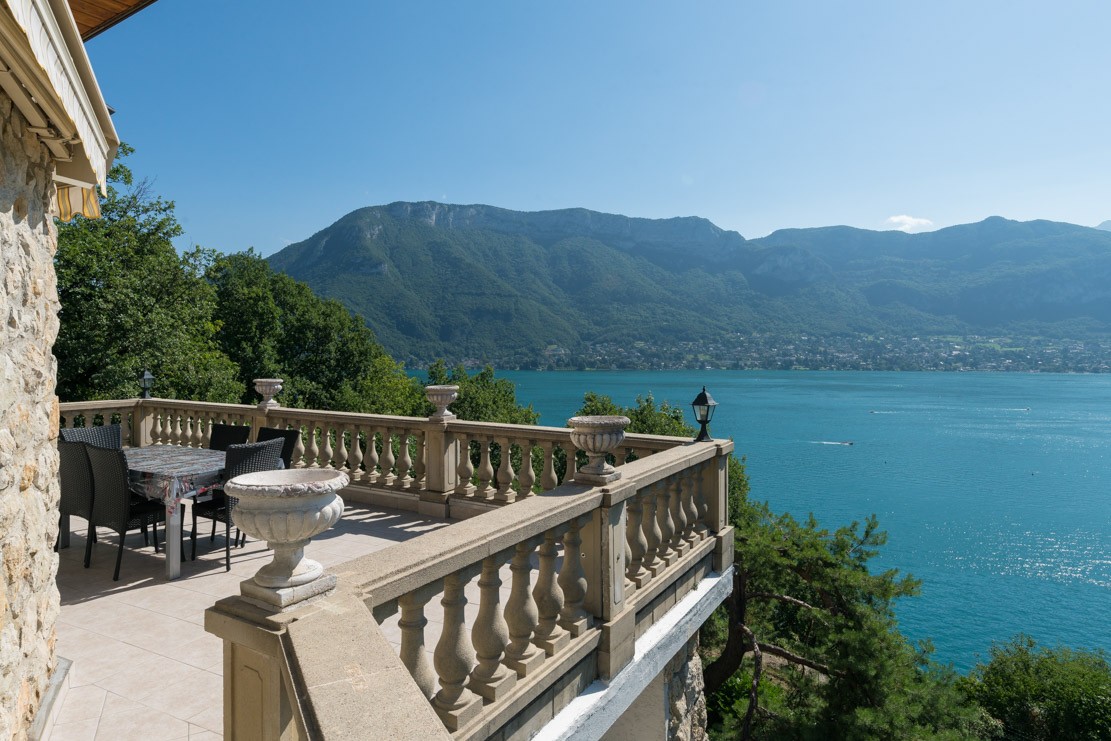 At just over 10 square miles in area, although Lake Annecy is significantly smaller than Lake Geneva, it is in no way less desirable. During the summer months, it is a popular playground for sailing and watersports including swimming and water skiing, whilst the surrounding parkland is perfect for walkers and joggers. There's even a 40km cycle route that incorporates the perimeter of the lake.
Fondly referred to as The Little Venice of France, the town of Annecy has a network of canals intertwining the streets, with lovely little bridges decorated with beautiful floral baskets.
As you meander the cobbled streets of Annecy which wind around those canals, you can't miss the Palais de l'Isle, a small prison in the middle of the Thiou canal as well as some beautiful churches which date back to the 15th and 17th centuries. As you'd expect from any good French town there's also plenty of independent cafes and patisseries where you can relax and soak up the magical atmosphere that surrounds you.
Annecy is a buzzing cosmopolitan town with an international community and idyllic lifestyle. With the lake on your doorstep for summer fun, and the ski resorts of Grand Bornand and La Clusaz a mere 30 minute drive away, Annecy is a very special place that is incredibly easy to fall in love with.
Click the image for property details: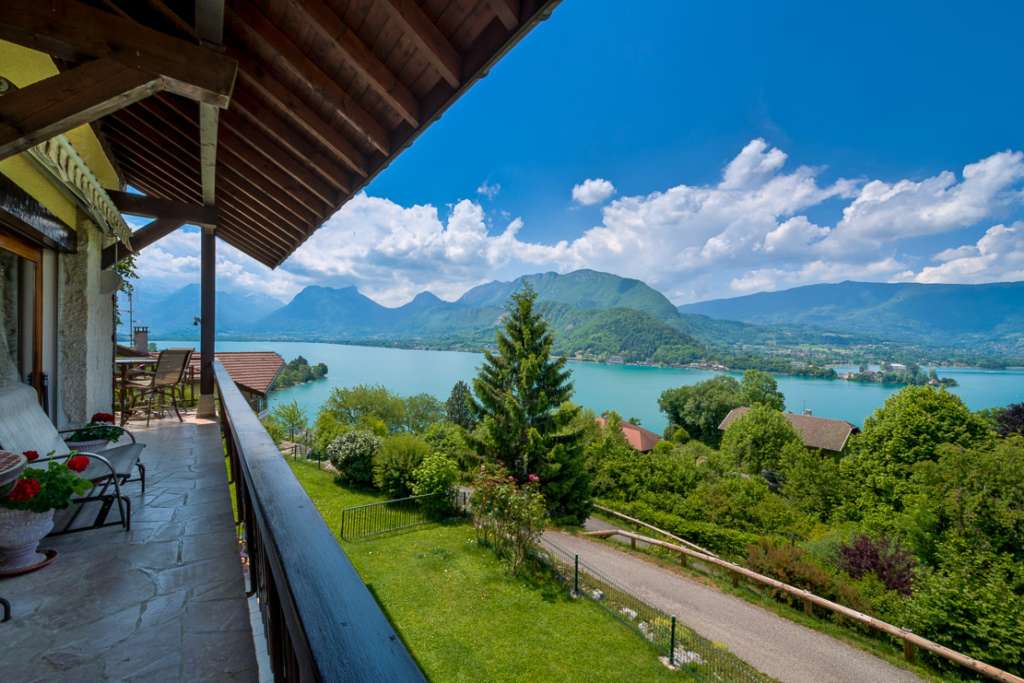 Further Information
For more information on any of the properties featured in this article, please follow the appropriate link or click on the relevant image(s) to complete an enquiry form. Alternatively, please follow this link to search for more Lake Geneva or Lake Annecy property for sale from the Prestige Property Group.
For any other enquiries, please contact us here.