Please follow this link to search for luxury property for sale in Corfu from the the Prestige Property Group.
Luxuriantly leafy Corfu is a perfect example of an island of two halves. The strong party scene in the hedonistic southern resorts gives Corfu an unfavourable reputation, but put away your prejudices and let us take you on a journey to the stunning north east of the island where lavish villas, secluded coves and an effortless sophistication await your discovery.
The Evergreen Greek Island
As you arrive in Corfu the first thing that will strike you is the abundance of lush greenery. So much so, it almost appears as though the entire island is covered with trees, in particular, olive trees. And there is a good reason for this.
In 1620, during the 4000 year Venetian occupation of Corfu, the Corfiots were offered financial incentives to plant olive trees, replacing the existing wild ones with new, cultivated ones. Within 100 years, Corfu was home to over two million olive trees, and this number still continues to grow. Rarely pruned, Corfu's trees appear much taller and wilder than those in the rest of Greece, a subtle reminder of the natural diversity of this fascinating country.
Today, there are anything up to 6 million olive trees in Corfu, making olive oil the country's most important product. In fact, 3% of the world's olive oil is Corfiot, although chances are you will struggle to find it in your local supermarket. Why? Well, there are several reasons but the biggest issue is the lack of sufficient refining and bottling facilities on the island to process the oil. As a result, most of the oil is exported to Italy where it's refined and subsequently sold as Italian.
Click image for property information: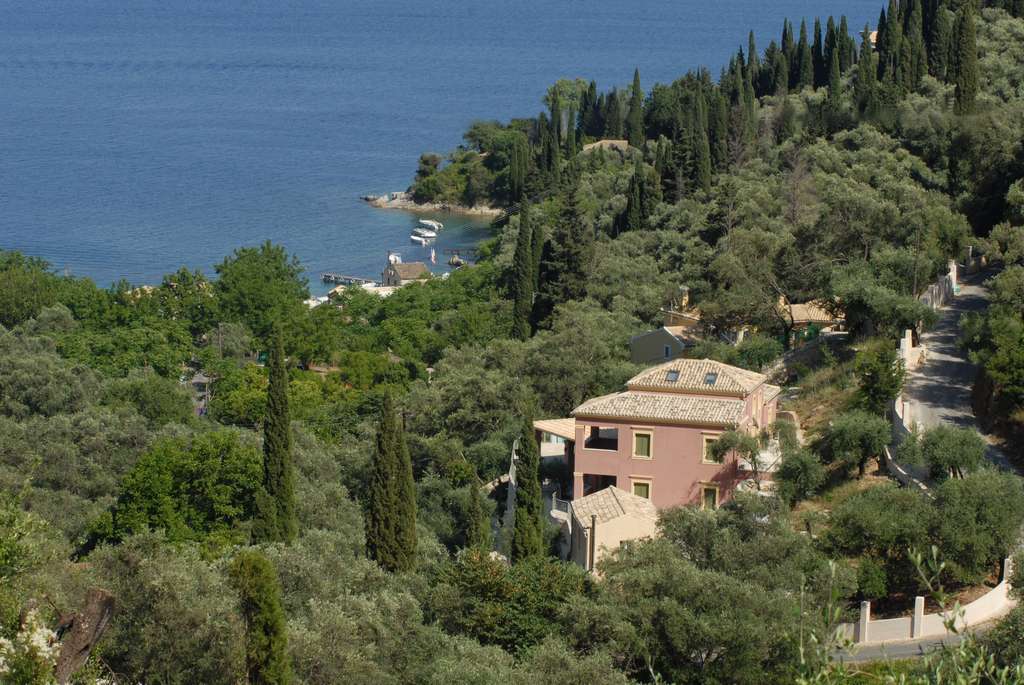 Luxury villa nestling in rolling green hillside on Corfu's northeastern coastline.
Corfu's Most Coveted Coast
Whilst young party animals will head to Kavos in the far south, the lesser known northeast coast offers a completely different scene. This is a much quieter corner of the island and is fondly referred to as "the posh part of Corfu". But don't let that put you off. If you compare Corfu to other must-be-seen-in places such as Ibiza, the South of France, or Marbella, it remains refreshingly humble and joyfully unpretentious.
Pleasingly light on concrete and high-rise buildings, the northeast's Mediterranean coastline has a beautiful, more untouched look. One that you can imagine would be familiar in many other destinations had they not been so ravaged by tourism and overdevelopment.
The steep slopes offer mesmerising views across narrow straits and from the winding main coastal road, narrow lanes descend to idyllic little coves. Although quite short in length, the coastline is bursting with stunning bays, each with its own unique appeal, and usually including an excellent taverna or two.
The beaches here are pebbly which also means they are generally quite empty as most holidaymakers opt to spend the day around their private pool instead. However, renting a motorboat is a fantastic way to explore this beautiful coastline and stopping off for a swim at a deserted beach will more than compensate for the lack of sand. Many of the beaches are completely inaccessible by road so you will likely find the perfect idyllic spot and be able to enjoy it all to yourself.
Click image for property information: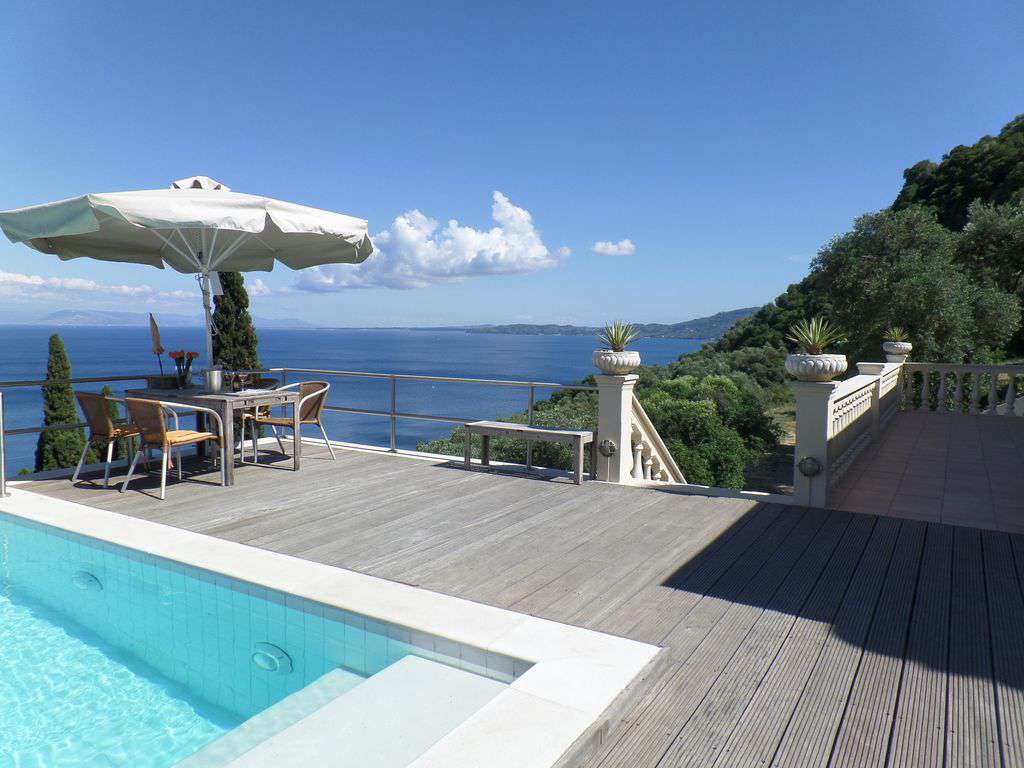 Panoramic views of the Ionian Sea from your own luxury villa
Top Resorts In The North East Of Corfu
Set around a deep horseshoe-shaped bay bustling with boats, the seaside village of Agios Stefanos is faultlessly pretty. Home to five waterfront tavernas, two civilised bars and a couple of small supermarkets stocking essentials, Agios Stefanos has the exact right amount of facilities and entertainment. The atmosphere is very low key and casual, with just enough life to keep current visitor numbers happy, whilst keeping the masses at bay.
Kassiopi is a popular choice for families, especially if you have teenagers. More of a mainstream holiday destination than anywhere else on this coastline, Kassiopi is the largest village in the northeast and enjoys a particularly picturesque setting on a small peninsula. The magnificent Mount Pantokrator provides a stunning backdrop and the rolling hills are covered with olive groves, vines and citrus plantations. Stunning sea views stretch as far as the Albanian coast whilst the traditional narrow streets are overlooked by the ruins of an ancient castle.
The harbour at Kassiopi with its little square is the focal point of the town's social life both during the day and at night. Known as "Kensington-on-Sea" the simple tavernas of Kassiopi are set on inlets and attract high profile businessmen, politicians, media moguls, art dealers and lawyers, all desperately seeking privacy. The Rothschilds – the richest family in the world – have a villa here and regular visitors include Lord Sainsbury, the Duke of Westminster, Prince Charles, the Duchess of Cornwall and Roman Abramovich, Chelsea Football Club owner and Russian billionaire. Rupert Murdoch has also been known to drop anchor here and settle in on his own floating palace.
Agni is one of the grander inlets of the northeast and was once best known for being the idyllic spot where former shadow chancellor George Osborne allegedly attempted to solicit a donation to the Tory party from Russian billionaire Oleg Deripaska. With its moment of frenzy long forgotten, this magical little bay is now best known and loved for its three beachfront tavernas. Hailed as a food lovers paradise, all the restaurants have a fantastic reputation and offer guests a sunbed on the pebbly beach, perfect for relaxing after a sumptuous lunch.
Click image for property information: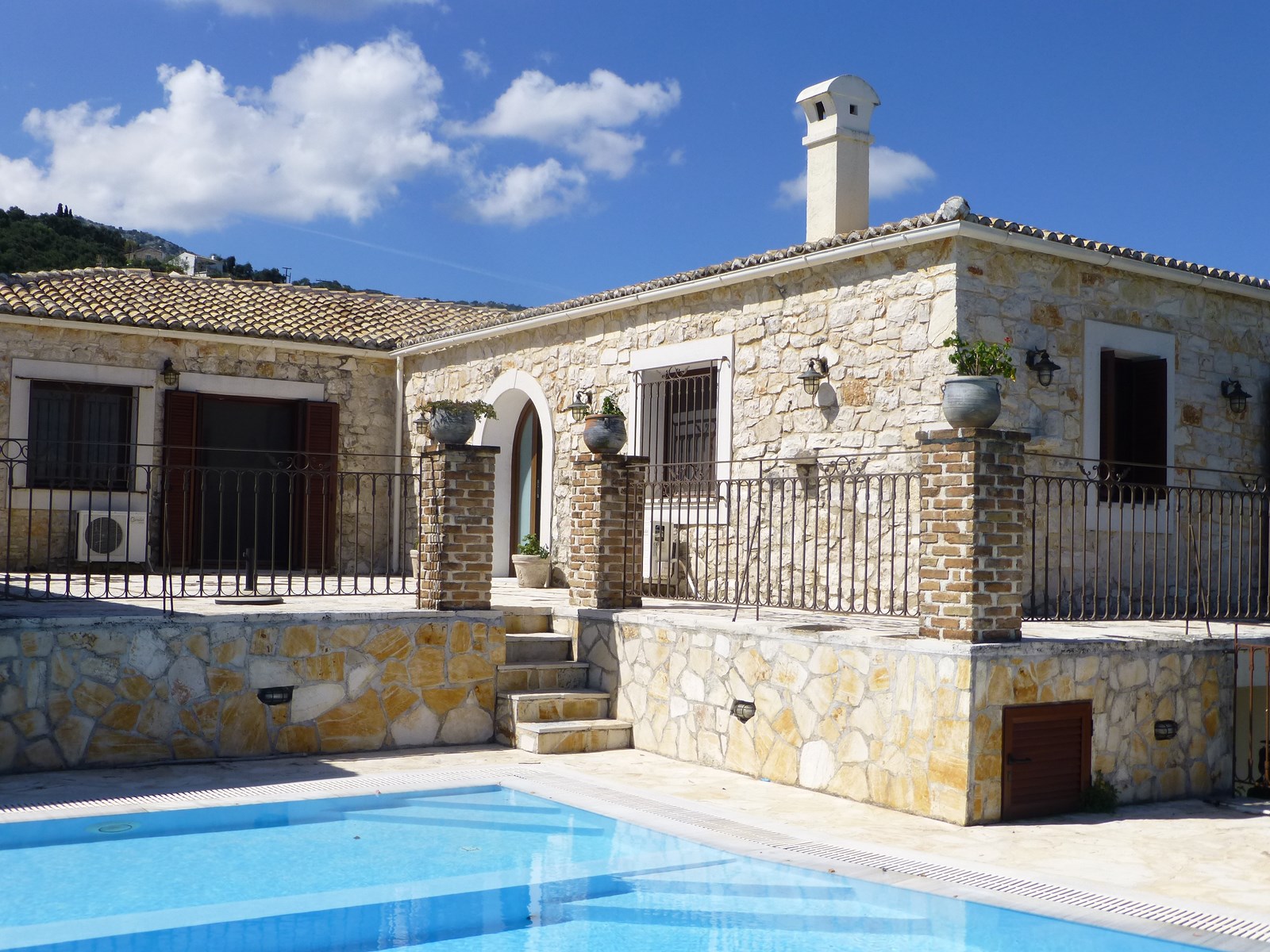 Traditional stone built luxury villa in Kassiopi, Corfu.
Corfu's Luxury Villa Lifestyle
In further stark contrast to life on the south of the island, there are hardly any hotels in the northeast of Corfu. This is very much upmarket villa territory where the hillsides above the many glorious bays and coves are liberally sprinkled with luxury properties boasting private pools.
There has been somewhat of a villa building boom over the past few years and whilst some areas have become more developed than they were ten years ago, it is in no way to the detriment of this stunning stretch of coastline. New, high specification villas have been constructed very much in response to the needs of today's discerning holidaymaker. Hotels simply aren't sought after here so the demand for luxury rental properties with a private pool is high.
With little rainfall throughout the whole year and temperatures rarely dipping below 14°, Corfu's northeast could just be the sophisticated slice of the Mediterranean you've been looking for.
Further Information
For more information on any of the properties featured in this article, please follow the appropriate link or click on the relevant image(s) to complete an enquiry form. Alternatively, please follow this link to search for more luxury property for sale in Corfu from the Prestige Property Group.
For any other enquiries, please contact us here.