Please follow this link to search for Ski Chalet property for sale from the Prestige Property Group.
Christmas truly is the most wonderful time of the year and for winter sports fans, there's no better way to spend it than whizzing down the slopes. The resorts look picture perfect, the villages are bustling with festive fun and the early season snow makes for perfect conditions. So if you're dreaming of a white Christmas, why not enjoy the ultimate cool Yule in your own stunning ski chalet located within one of our favourite winter resorts.
Luxury Ski Chalet in Val d'Isere
Val d'Isere is a veritable winter wonderland throughout the whole ski season but if you're lucky enough to spend Christmas here, the calendar is jam-packed with festive activities that the whole family will love.
Feast your eyes on stunning giant snow sculptures which are painstakingly created every year over the course of four days. Standing tall at over four metres, these impressive effigies are made by talented sculptors who first of all pack snow tightly into cases, before shaping them using a combination of chainsaws and handsaws for a precision finish.
Igloos, nativity scenes, polar bears and Father Christmas himself have all featured over the years and they truly are remarkable works of art.
Click the image for property information: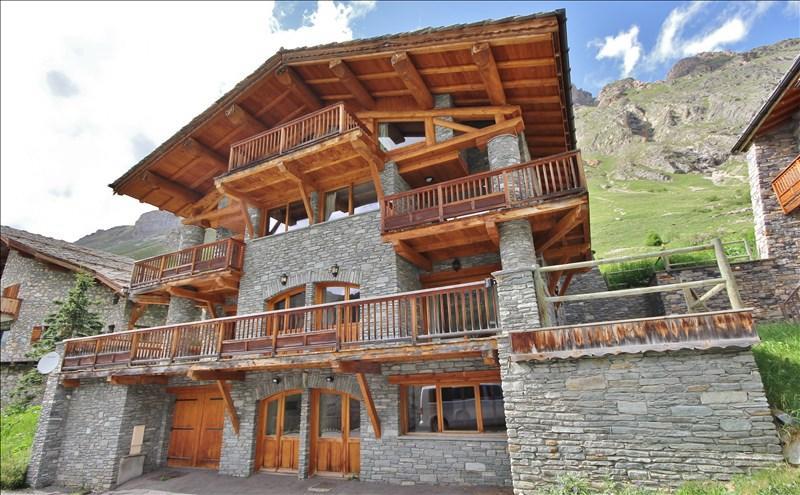 Another family favourite in Val D'Isere is the torchlit descent which is a wonderful festive highlight performed by the Ecole du Ski Francais. Starting at the top of the Face de Bellevarde, a legendary 3km steep black slope, local ski instructors whizz down the mountain, perfectly demonstrating various skiing styles all whilst carrying a flame torch.
With fireworks going off simultaneously, the result is a magical eruption of light zig-zagging its way down the slopes, reminiscent of an oozing volcano. At the end of the mesmerising display, everyone gathers together at the foot of the piste for a traditional vin chaud or two.
With a children's version of the torchlit descent on the nursery slopes, as well as an enchanted Christmas village brimming with shows, storytelling, face painting and Christmas carols and of course the opportunity to meet Father Christmas himself, Christmas in Val d'Isere is nothing short of enchanting.
Click the image for property information: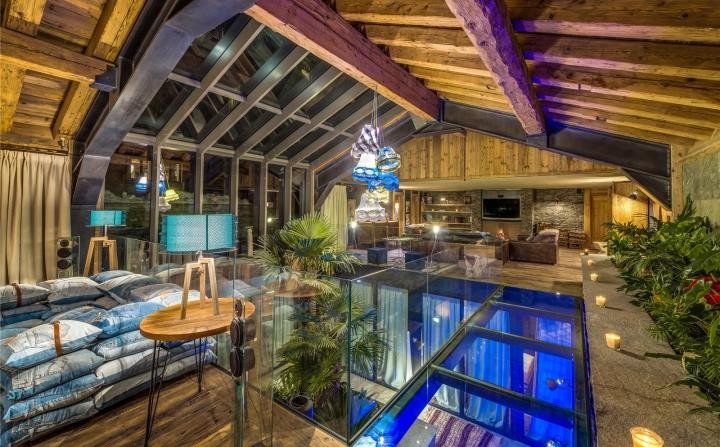 Enjoy the best of Val d'Isere from this exceptional 7 bedroom ski chalet located close to the resort centre. Built to an exceptional standard and luxury design, this magnificent property features spacious living areas, a bar, large south facing terrace and fitness area complete with swimming pool and wellness zone.
Just 10 minutes from the heart of Val d'Isere and 8 minutes from the Bellevarde Express, this fabulous property will make all your Christmas wishes come true.
The Magical Fun of Chamonix
The magic of Chamonix comes to life every year around the 16th December with the official opening of the Christmas market. Authentic wooden chalets pop up along the banks of the river and around Place Malmat, creating a little Christmas village where locals sell crafted gifts and regional produce, perfect for last minute gift shopping.
The Christmas village is the hub for most of the festive activity and there is something on every day including your typical Father Christmas meet and greet, carol concerts and Christmas performances. That being said however, Chamonix is also home to some rather more unusual yuletide events……..
Why not head down to the Christmas market for the annual goose parade? That's right, every year a gaggle of geese wanders through the streets of Chamonix in an extraordinary spectacle. The geese happily honk along to drums and whistles to celebrate the bringing together of man, music, and animals, creating an enchanting fairy tale for young and old.
If you still find yourself pining for more action despite the excitement of the goose parade, then be sure to sign up for "Les Houches paret descent" for an altogether different mountainside experience. With the ski lifts closed, you take the Prarion bubble cable car ride to the top of the piste and then ride a wooden sled all the way back down to the village. The descent lasts approximately 45 minutes and is hilarious fun, if not a little bumpy!
Click the image for property information: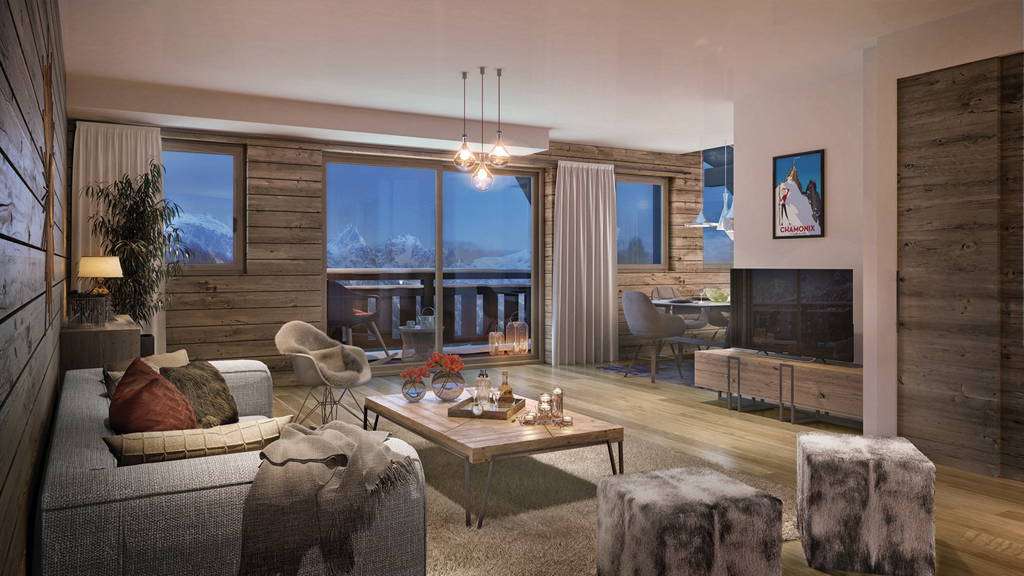 Enjoy all the fun of Chamonix year on year from your own luxury apartment, buy off-plan in a lovely area of Chamonix.
A Glitzy Christmas in Courchevel
Courchevel is often referred to as Val d'Isere's more glamorous sister and it is well known for being one of the most stylish resorts in Europe. Not necessarily because the skiing is better (although some would argue it is), but more so because there is a definite element of glitz here.
Christmas is generally not a commercial affair in Courchevel as emphasis is rather placed on skiing and family time. That being said however, once the Christmas lights are switched on to the delight of the vin chaud quaffing crowds, there is of course, an undeniably welcome festive atmosphere.
As the market stalls open for business, the streets fill up to the sound of live music and the local restaurants put on special festive menus brimming with champagne and local delicacies, perfect for gathering together your nearest and dearest.
Every evening there is a spectacular light show complete with street entertainers, music, parades and of course guest appearances from the main man himself.
Children (big and small!) can also satisfy their sweet tooth and sugar cravings at the nightly Chamallow parties in Courchevel Village. Grab a stick and some marshmallows and toast away to your heart's delight over the open fire pits. Be warned though, sticky faces are inevitable!
Click the image for property information: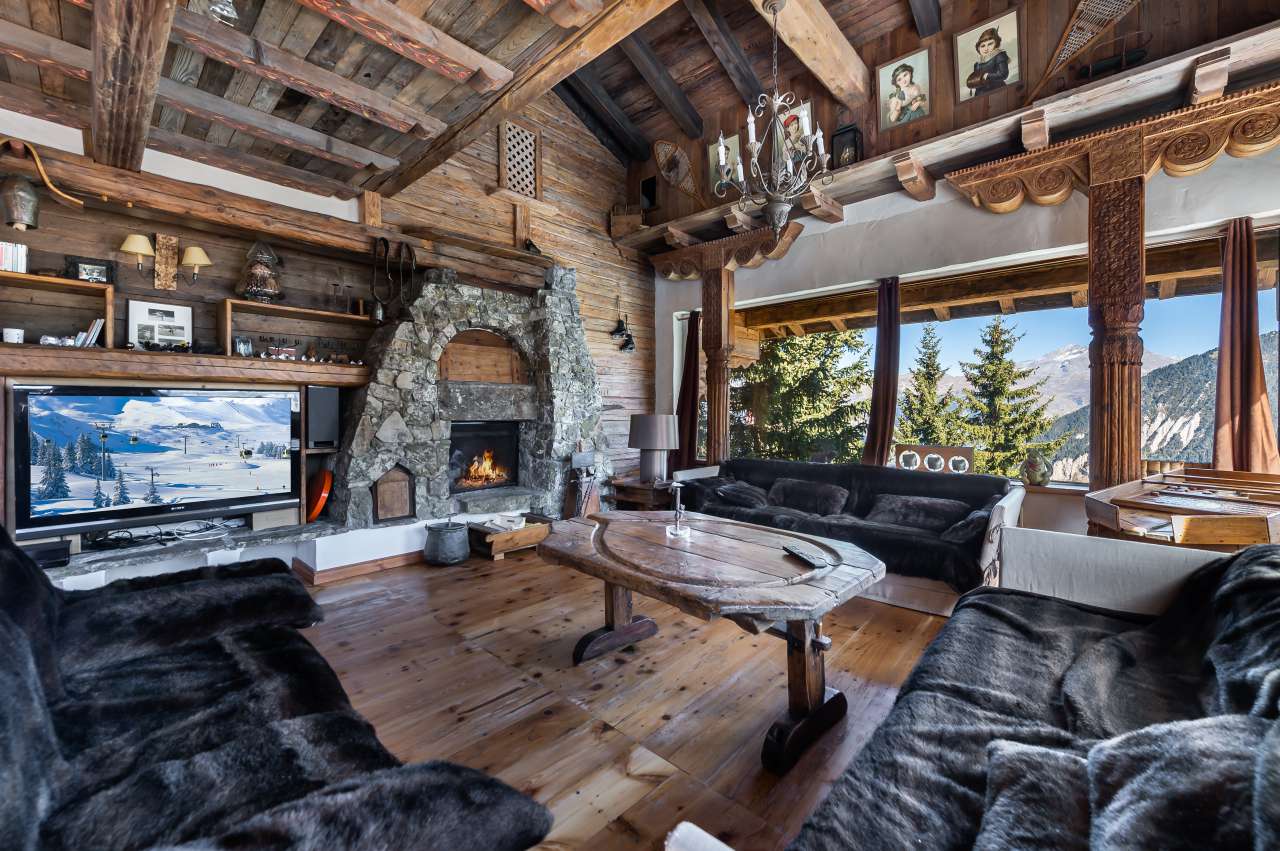 Traditional Ski Chalet Christmas in Morzine
Known as "Village enchanté" or the Enchanted Village to you and me, Morzine offers a full schedule of festive events which take place over the course of a fortnight. Highlights include the arrival of Father Christmas, light painting, carpentry for kids, creative workshops, street parades and of course fireworks.
And if you thought that was full on, just wait until New Year arrives. The party vibe really heats up in Morzine for New Year's Eve and there are always plenty of events to choose from whether you're looking for family-friendly, or full on wild party animal antics. Live music, bands, DJs, cocktails, beer……. Whatever your preferred tipple and taste, there truly is something for everyone in Morzine.
Click the image for property information: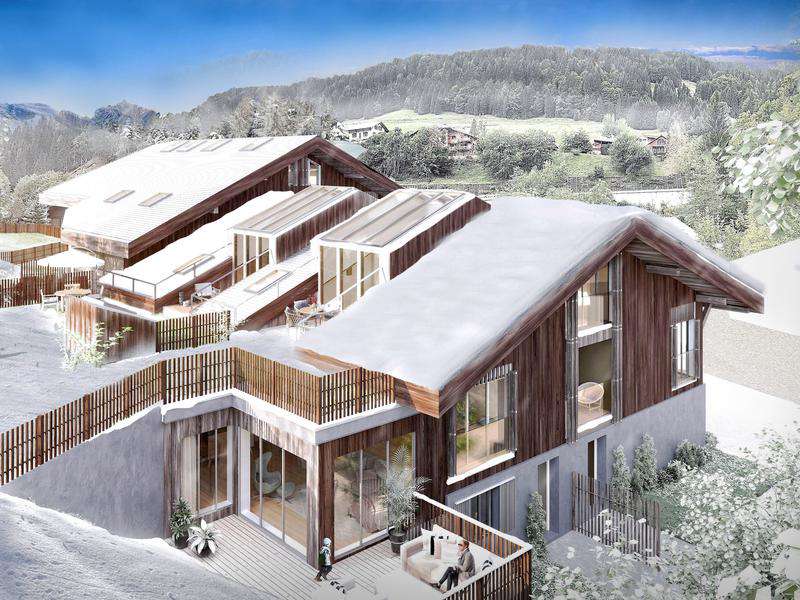 Further Information
For more information on any of the properties featured in this article, please follow the appropriate link or click on the relevant image(s) to complete an enquiry form. Alternatively, please follow this link to search for more Ski Chalet property for sale from the Prestige Property Group.
For any other enquiries, please contact us here.