The Caribbean property market is seeing some positive trends in the first quarter of 2017, with investors confident to put their money into luxury Barbados property for sale, after a difficult period of uncertainty following Brexit.
Barbados has always had a lure for British investors particularly, who make up around 70% of the buying population, according to The Move Channel. Amongst its relaxed way of life, picturesque scenery, English-speaking expat community and 3,000 hours of sunshine a year, the reasons for the popularity of Barbados for Britons, noted by The Telegraph, is largely down to its range of property options at a variety of prices. Second homeowners can retreat to a holiday home in Barbados for extended breaks, with Britons being allowed to stay for up to six months with no permit. Whilst retirees looking for permanent residency can apply for permits that take their assets and income into consideration.
However, Britons are not the only investors Barbados appeals to. Americans and Canadians gravitate towards the south coast in the parish of Christ Church, with affordable housing and family-friendly amenities. Whilst the investors looking for luxury property can secure a property for a cool £2.6 million pounds on average.
Property prices are being dropped by an average of 15% around Barbados, according to The Move Channel, to accommodate the investors from the UK that have seen a drop in the value of the pound since Brexit. This is, therefore, an ideal time for investors to secure a property in this desirable location while the property prices stay low.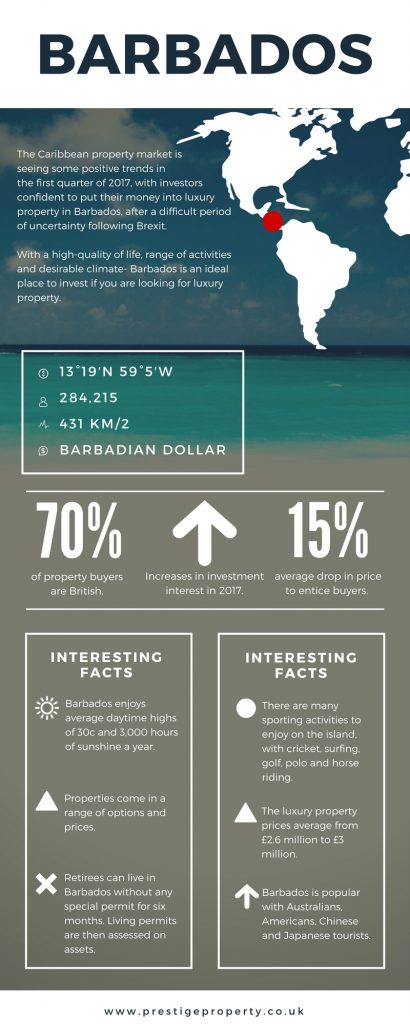 Please include attribution to https://www.prestigeproperty.co.uk/ with this graphic.