There is a multitude of reasons to invest in Tuscany real estate for sale. From the idyllic countryside, filled with credited vineyards that offer some of the most recognised wines in the world, to the cosmopolitan cities that house renowned treasures, as well as hidden gems, to explore. The region that gave birth to the romantic Renaissance movement is famous for its culture and rolling hills, but unsurprisingly its coastal backdrops are somewhat forgotten amongst the many offerings for international tourists. You could travel in a convertible car from your holiday home in Tuscany, through patterned fields and wide country lanes, to the white sand beaches one day, then walk in the shadow of grand architecture, that frame the cobbled pathways, in the iconic city of Florence the next. It is no wonder that people fall in love with Tuscany.
Amongst the scenery and culture, another alluring reason why property in Tuscany is attracting international investors is the price, where properties can be secured for prices under the €500,000 mark. Property market analysts have announced that prices are set to continue their downward trend in 2017 throughout Italy, which is great news for potential investors looking at buying in this region. Price falls are forecasted to last until 2018, where property costs are predicted to see the start of an upward trend; it is, therefore, imperative to invest in Tuscany property this year, while the market offers you more for your money.
Our helpful infographic outlines some of the main reasons why investing in properties in Tuscany is a wise choice if you are looking at owning a holiday home in Italy: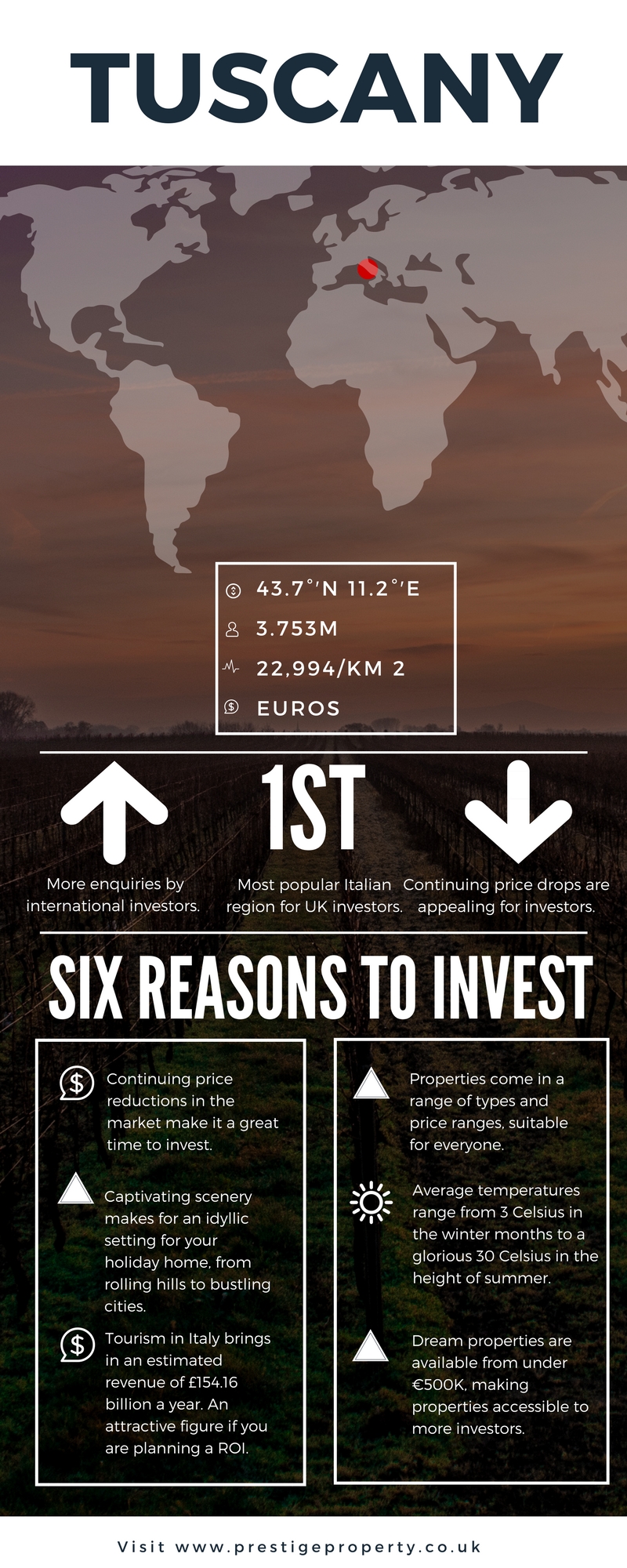 If you would like to discuss the property market in Italy or any of our Tuscan properties we have available, get in touch with one of our knowledgeable staff members today.