This charming medieval town is made up of narrow streets, shaded squares and has an air of elegance about it. With its historic stone buildings lining the maze of alleyways and streets, and spectacular landscapes surrounding the town, it is no wonder that so many are captivated when they arrive. Because of its location and only being a short drive from Nîmes, it can be the perfect place for those looking for a traditional taste of the French lifestyle, without being in the middle of a city.
Uzés is full of character and boasts an array of shops and credited restaurants. You can peacefully wander through the alleyways, squares and monuments, and the remarkable Romanesque Fenestrelle Tower, a relic of the old cathedral, which is notable for being the only example of a round bell tower in France.
Property market trends
The average buying price throughout Uzés is €2,950 per sq.m, and property prices are higher than the department average at €2,450 per sq.m. This is because Uzés is popular with tourists; which makes it ideal for those looking for an investment opportunity. However, France has an average square metre price of €10,443, so Uzés is extremely good value for money.
Almost 10% of the homes in Uzés are second homes, and this is due to its hot summers with an average temperature of 25°c, as well as this town being particularly welcoming to foreigners. These assets also explain why the town attracts many tourists throughout the year, alongside the vibrancy of the town and general appeal.
History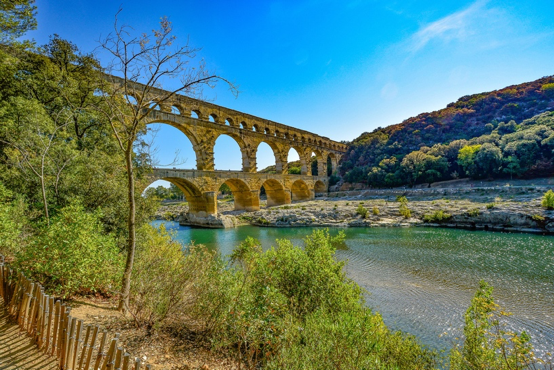 One of the most famous landmarks that can be found just outside of Uzés is the Pont du Gard. This incredible piece of architecture is a 160-foot-high Roman aqueduct, built to provide water to the city of Nîmes from the River Eure in the first century A.D.
Uzés became extremely prosperous in the 16th century for being a centre for textiles. Throughout the town, you will be able to see many of the old merchants' houses, which are now seen as protected monuments.
Reasons to buy in Uzés
Uzés has the quintessential French atmosphere which many long for. The Place aux Herbes hosts a lively farmers market every Wednesday and Saturday, and for food lovers, Uzés' biggest appeal is its collection of magnificent places to dine.
If you are interested in investing or buying in France, we can assist you in finding the perfect property. Whether you are looking for French chateaux for sale or property for sale in Uzés, our experienced team are on hand to help.
Image credit: Alehins