As the largest of Spain's Balearic Islands, Mallorca is home to over 260 beaches and 555 km of coastline as well as numerous secret coves, picturesque villages and luxurious marinas. So whether you are looking for peaceful Mediterranean views, the hustle and bustle of city living by the sea, or perhaps the quaint fishing village life of yesteryear, Mallorca's luxury property market offers various options for waterfront living which are a world away from the typical tourist resorts.
City Living in Palma de Mallorca
There is something magically endearing about a city by the sea. For many, it's the true epitome of being able to enjoy the best of both worlds and Palma, which was recently named by The Sunday Times as the world's best place to live, is a veritable example of just that.  
Mallorca's vibrant capital city is the perfect combination of style, history, intimacy and energy. The striking Gothic Cathedral, La Seu, is the city's landmark building which dominates the bay of Palma and greets you majestically as you enter the city. Beyond the cathedral lies the Old Town which offers sightseeing and shopping galore, intertwined with ancient passages and stunning architecture, the perfect place to enjoy some pavement tapas and watch the world go by. Santa Catalina is where the cool kids hang out, independent stores and boutique shops line the streets but it's at night when the area really comes alive with fusion cuisine, trendy restaurants and hip bars where serving the perfect G&T has become an artform in itself.
Step outside the confines of the city and there are several beaches within walking distance, each with their own unique appeal and charm. Just a couple of kilometres from the cathedral is one firm favourite, Portixol. Much investment has been pumped into this former fishing village over recent years making this one of Palma's coolest beach suburbs to hang out in, and most sought after areas to reside in.
Front line apartments and reformed fishermen's cottages are in high demand as would-be residents seek to find the best piece of real estate from which they can enjoy the chic restaurants and trendy bars on their doorstep.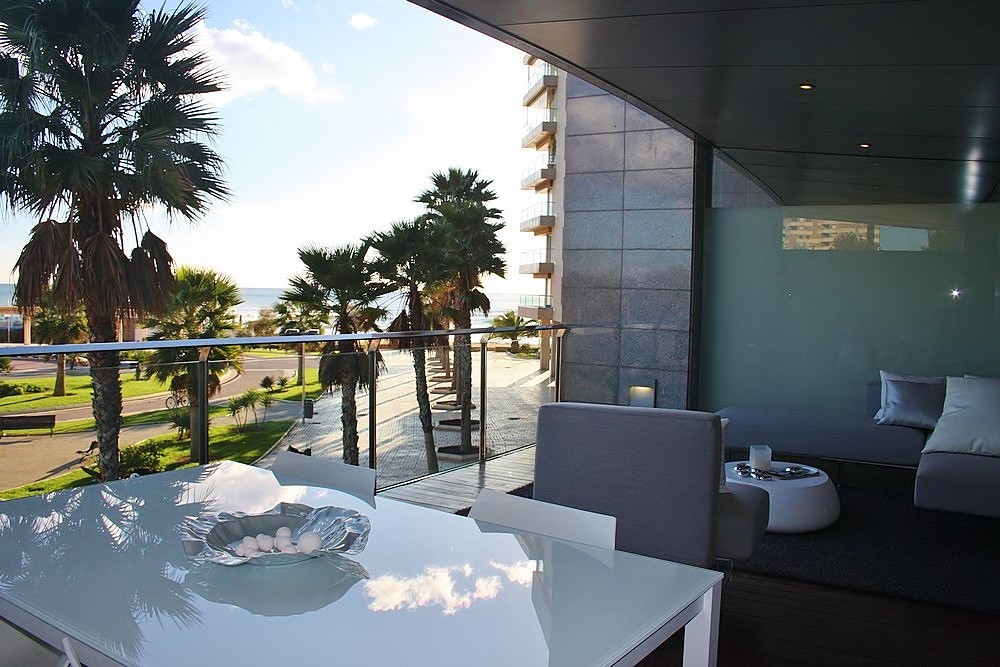 Click image for further information:
Spectacular front line apartment in Portixol with stunning views of Palma.This newly built, spacious apartment is the perfect example of a modern Portixol property. Built  and furnished to an excellent standard, this 4 double bedroom, sea front home offers breathtaking views over the bay of Palma and Portixol with the added convenience of being just 5 minutes from Palma city centre.
Beach Resort Living in Santa Ponsa
If you're looking for all the perks of life within a busy beach resort but without the over the top high rise buildings and holidaymaker shenanigans, then Santa Ponsa could be the perfect balance for you.
Situated on Mallorca's South West coast, Santa Ponsa is nestled in a beautiful sheltered cove and its blue flag "big beach" is a glorious example of Mallorca's finest offerings. In the high summer months Santa Ponsa is perhaps a victim of its own beauty as the wide, long golden sandy beach is an obvious lure to visitors so it can get very crowded in July and August when the holiday season is in full swing.
There is however a second beach in Santa Ponsa, Calo d'en Pallisser, which is known locally as Playa Pequeña, or small beach. Set in a bay with rocky sides, the sea here is very calm and ideal for swimming, making it more of a favourite amongst the locals.
For the yachting community, the Club Nautico de Santa Ponsa has just over 500 berths and is one of the prettiest yacht clubs in Mallorca. Bustling with life all year round, this is the perfect place to wander around, enjoy a bite to eat and perhaps indulge in a well earned glass of chilled cava or two.
And when a regular yacht isn't enough, head over to Port Adriano, home of the super yacht. Less than 10 minutes by car from Santa Ponsa, Port Adriano is one of the few ports on the island which is actually large enough to cater for these impressive super size vessels. Recently redesigned by the renowned Phillipe Starck and home to several designer boutiques and fine dining establishments, Port Adriano is among the most modern marinas in the Mediterranean making it a very popular meeting place for devotees to luxury.
Click image for further information: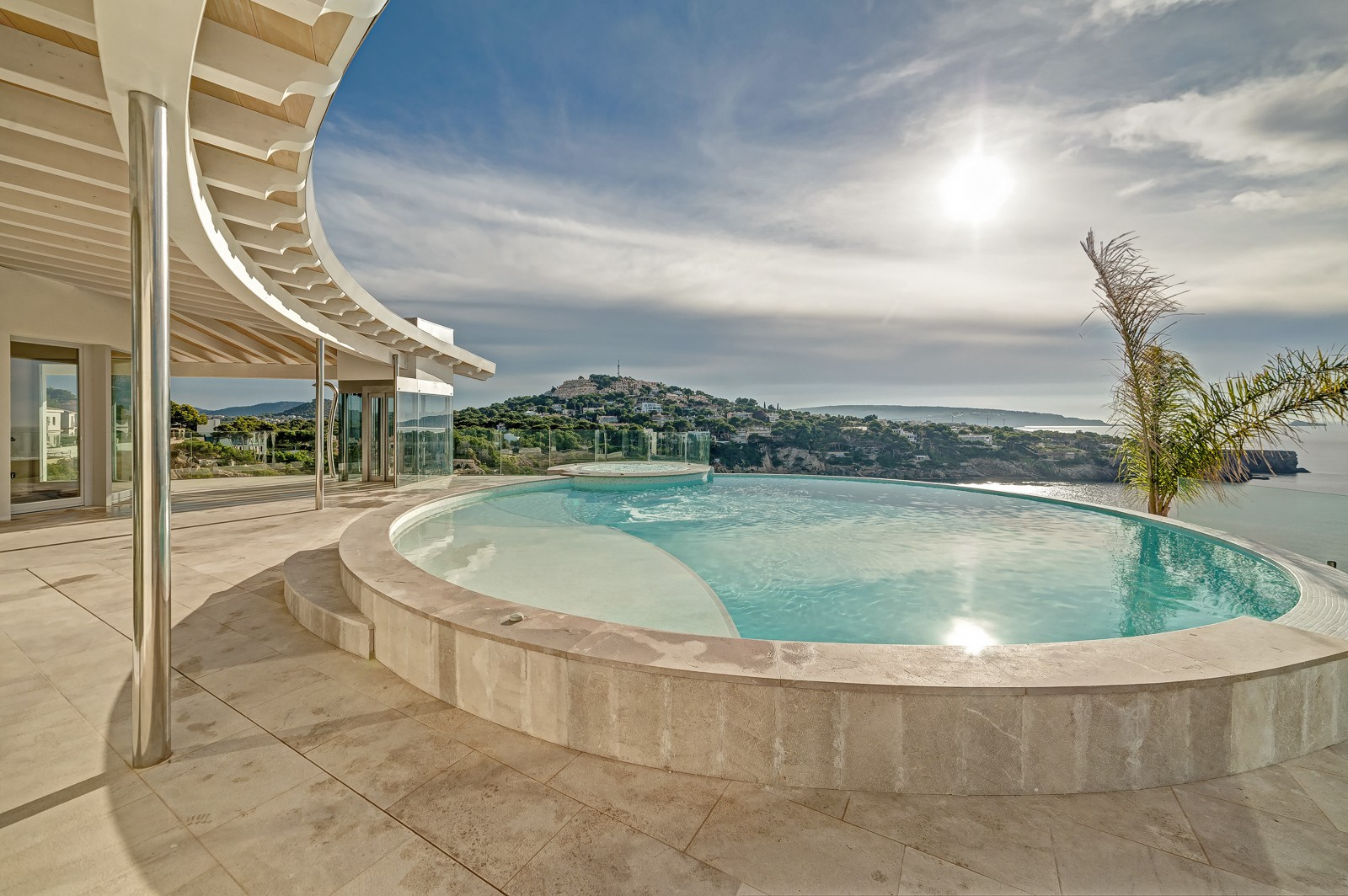 This luxury modern villa is ideal for enjoying the best of Santa Ponsa.The hills surrounding Santa Ponsa and nearby Nova Santa Ponsa are dotted with some of Mallorca's most luxurious real estate offerings and this 5 bedroom villa is a stunning example of what you can expect to find. With a strikingly modern architectural design, this property takes full advantage of its elevated position by ensuring that all the various terraces, both covered and open, benefit from the spectacular panoramic Mediterranean views.
With noteworthy features including underfloor heating, air conditioning, video entry and a smart home system to name but a few, this luxury modern villa has everything you need to truly enjoy the best of Santa Ponsa.
Rugged Nature in Deia
In complete contrast to the glitz and glamour of Santa Ponsa and the hustle and bustle of Palma, Deia on Mallorca's North West coast boasts a rugged, natural beach with shingle, clear waters and rock pools.
Although a lot less developed than other island resorts, Deia is in no way less impressive or significant. Nestled between the sea and the Tramuntana mountains, the village of Deia itself has long provided inspiration for artists, writers and rock stars. Richard Branson owned a hotel here previously and declared this "one of the most beautiful villages in the world" and Michael Douglas owns a house in neighbouring Valdemossa.
Relaxed cafes and bars line the cobbled streets of the village making this an ideal place to satisfy your inner gastronomist. There is an eclectic mix of restaurants but quality rules over quantity and the Michelin star Es Raco D'es Teix as well as nearby Sebastian's are not only a firm favourite with the locals, but are also renowned throughout the island and draw clientele from further afield.
: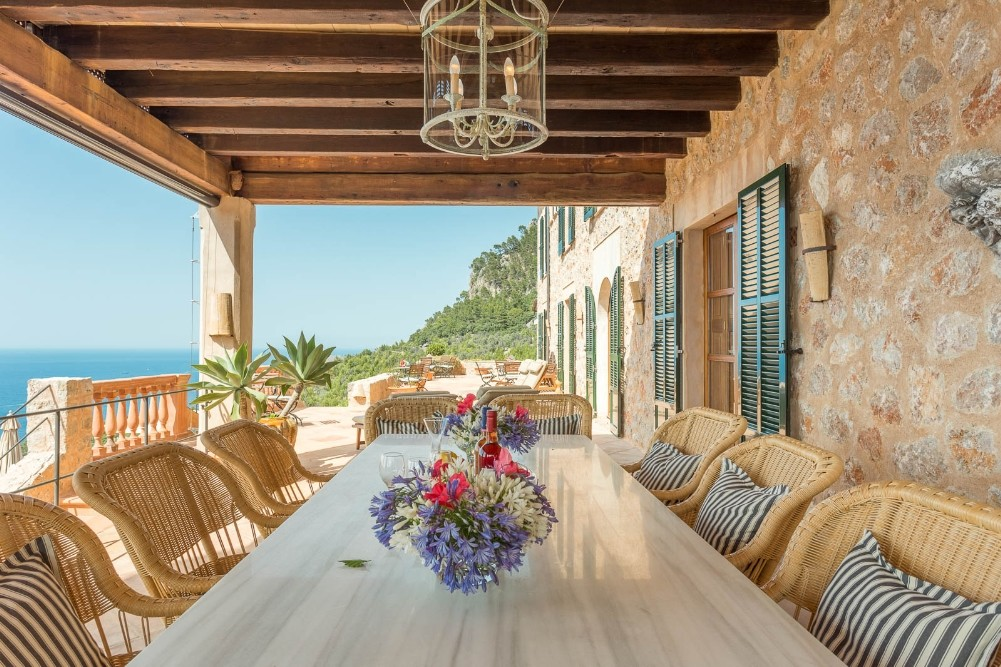 Click image for further information:
Classic Mallorcan elegance on Deia's front line.As you'd expect from the untouched feel of the village, properties here tend to be of the more traditional Mallorcan architecture and style as opposed to the modern, sleek influences often seen elsewhere on the island. Of course that doesn't mean that there is any reason to compromise on luxury and this stunning villa on Deia's frontline is testament to that.
Arranged over three levels, this six bedroom villa oozes elegance and coziness with highlights including: beautiful master bedroom with private bathroom, spa area with sauna and steam bath, fully equipped guest apartment, basement bodega, and of course a private swimming pool.
There is something undeniably enchanting about a classic stone facade adorned with traditional wooden window shutters, and with uninterrupted sea views coupled with a mountain backdrop, this property offers a genuine slice of Mediterranean serenity.
Elegant and Tranquil Cala San Vicente
On the most North Westerly tip of Mallorca you can find the little resort town of Cala San Vicente. This little gem of a former fishing village is not only a tranquil haven from which to explore Mallorca's dramatic northern coastline, but it is also home to four very different coves itself.
Cala Barques is the largest of the four beaches and whilst rocky all the way out, the crystal clear waters and lifeguard service make this a great spot for snorkelling.
Cala Clara is just 2 minutes walk away and what this tiny little beach lacks in space, it makes up for in beauty, however be aware, there is a rather large hotel here so space can be at a  premium in high season.
Cala Carbo is the quietest of the the Cala San Vicente quartet as there is no sand here at all, and its wild, natural state is particularly appealing to local island residents looking for tourist respite. There are however some flat rock platforms by the boathouses so if you come suitably prepared for the terrain you can find a peaceful spot to relax in, even in the high season. Don't be alarmed if you see the odd naked person either, this is a natural spot in more ways than one!
Finally you have Cala Molins, the most popular of the four local beaches due to its proximity to surrounding hotels. A fine sandy beach, with fresh sand imported every year, this turquoise enclave with tree lined promenade is a beautiful bathing bay with enough facilities within walking distance to make this a nice place to set up camp for the day.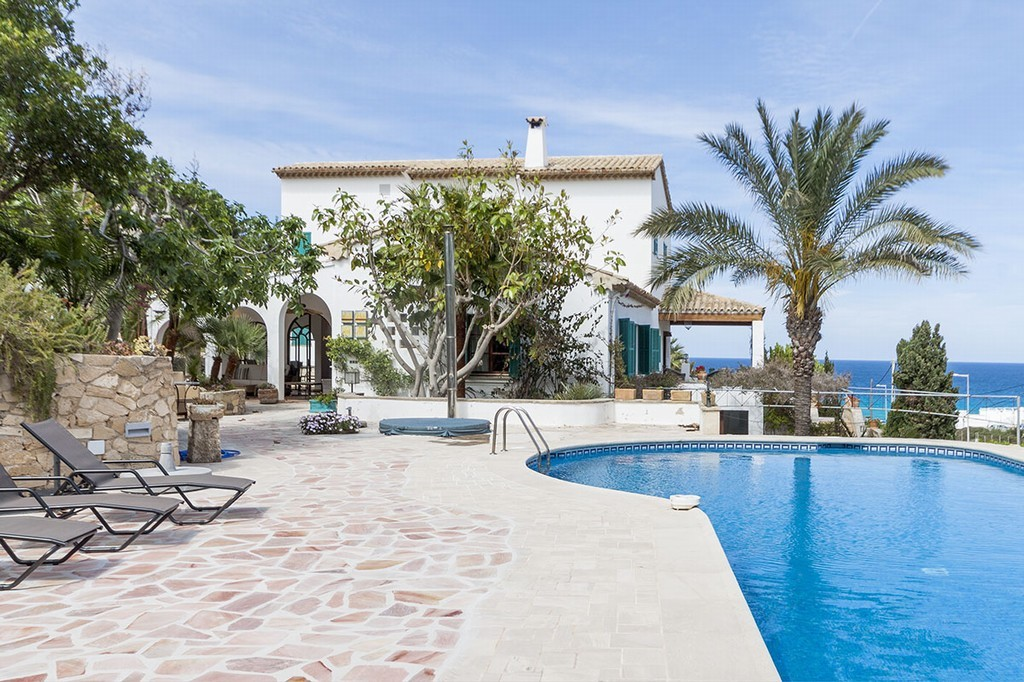 Click image for further information:
A peaceful retreat in Cala San Vicente.If you're looking for a peaceful retreat to call your own in Cala San Vicente then this beautiful detached villa could be for you. Despite being just 150m from the beachfront, this 9 bedroom property is situated in a quiet and private area where no compromise has been made on space. The living area has been recently renovated and features include: two master suites, 10 bathrooms, new fully fitted kitchen, covered dining terrace, wine cellar, and beautiful garden with private pool.
Its privileged location means that you are just a short walk away from the beach, restaurants and shops and should you be looking to reside in Mallorca for only part of the year, the good rental potential of this property only adds to its flexible appeal.
Classy Port d'Andratx
It would be impossible to talk about luxury living on Mallorca's best beaches without mentioning Port d'Andratx, a working fishing village which doubles up as one of the island's classiest resorts. Popular with locals and the expat community alike, life in Port d'Andratx is very much centred around the nautical and fishing industries.
The Club de Vela (sailing club) has moorings for 500 boats and offers sailing lessons and canoeing throughout the year whilst the ever present fishermen who sell their catch of the day every evening ensure that the port retains its original character.
The harbour is lined with restaurants and rather unsurprisingly seafood is the most popular cuisine with the various menus on offer showcasing typical Mediterranean flavours using the fresh fish and shellfish caught nearby.
The port has several beaches including Cala Llamp Bay which, although small and unsuitable for sunbathing, boasts one of the most stunning views in Mallorca. In contrast, just 3 km further down the road is Camp de Mar, a sophisticated beach resort with a well serviced and beautifully clean 180m wide beach area.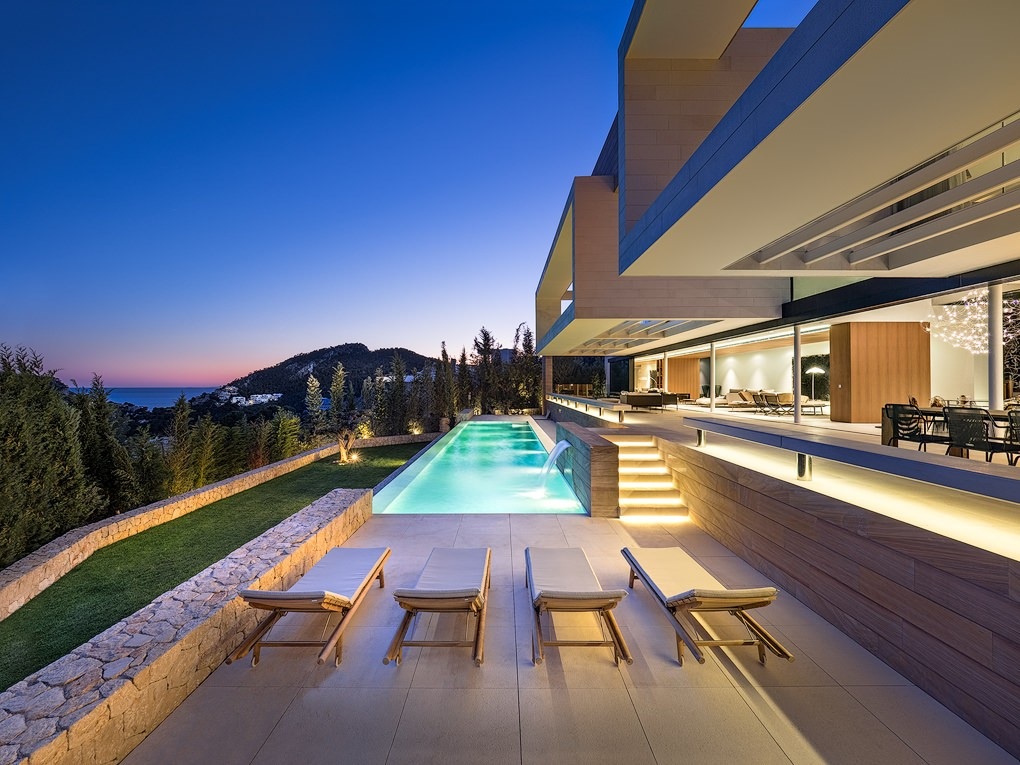 Click image for further information:
Ultra modern luxury in Port d'Andratx, a favourite amongst celebrities.Firmly on the map with the yachting community, Port d'Andratx is also a favourite for holidaying celebrities with some even owning their own villas in the surrounding hillside. If you'd like a taste of the lifestyle that favourites including Claudia Schiffer, Elle McPherson, Salma Hayek and even Brad Pitt have rumoured to have enjoyed, then this modern villa could be perfect for you.
With its sleek modern lines, this newly constructed ultra modern luxury home oozes quality and whilst minimal in its design, there is no shortage of home comforts. The living and dining area is very open plan and the sliding 40m glass wall gives access to the private terrace and pool area with stunning views over the harbour. As well as 5 large bedrooms, including an impressive master suite, there is an additional guest apartment as well as a spa and fitness area with indoor pool and wine cellar. Don't worry if you find yourself accidentally spending a little more time than anticipated in the wine cellar, the designers of this home have thought of everything and there is even a lift installed in the property so you don't have to navigate the stairs whilst under the influence.
Further Information
For more information on any of the properties featured in this article, please click on the relevant image(s) and complete an enquiry form. Alternatively, please follow this link to search for more luxury property for sale in Mallorca from the Prestige Property Group.
For any other enquiries, please contact us here.