Please follow this link to search for luxury property for sale in the Algarve from the Prestige Property Group.
Located on Portugal's southernmost coastline, the Algarve is world renowned for its amazing golden beaches, dramatic Atlantic coastline and impeccable golf courses, making this one of Europe's most popular destinations for wealthy expats seeking the ultimate luxury lifestyle. But what exactly can you get for your money? Well it's often argued that there's something in the Algarve to suit all generous budgets so here's our countdown of the finest properties from £5 million to £1 million.
The £5m Golf Resort Lifestyle at Quinto do Lago
Quinto do Lago firmly established its position within the international golfing community right from its creation. The three courses here are considered to be among the finest in Europe and are complemented by additional world class facilities such as a Paul McGinley Golf Academy and a TaylorMade Performance Centre – the only one of its kind in Southern Europe.  
Not shy of winning a few accolades, Quinto do Lago was named "Europe's Best Golf Destination" at the 2015 and 2016 World Golf Awards, whilst also receiving the coveted title of Golf Digest's "Editor's Choice Award for Best International Resort" in 2016 and 2017.
Whilst these are of course incredible achievements, it is important to also recognise that resort living offers so much more than "just" golf and Quinto do Lago should in no way be dismissed by those who don't play.
There are no fewer than 10 restaurants within the resort all offering a variety of dining options and experiences to suit either a relaxed or formal mood, and when it's time to burn off those over indulgences then the Guest Services Team are on hand to help you organise a variety of activities from horse riding and scuba diving to dolphin spotting and hot air ballooning. Residents and guests are also welcome to use the onsite gym facilities. Should that all sound a little too much like hard work then you can simply explore the resort's dunes and beaches as well as the Ria Formosa nature reserve.
This property now been sold.  Click to see a similar property in Quinto do Lago: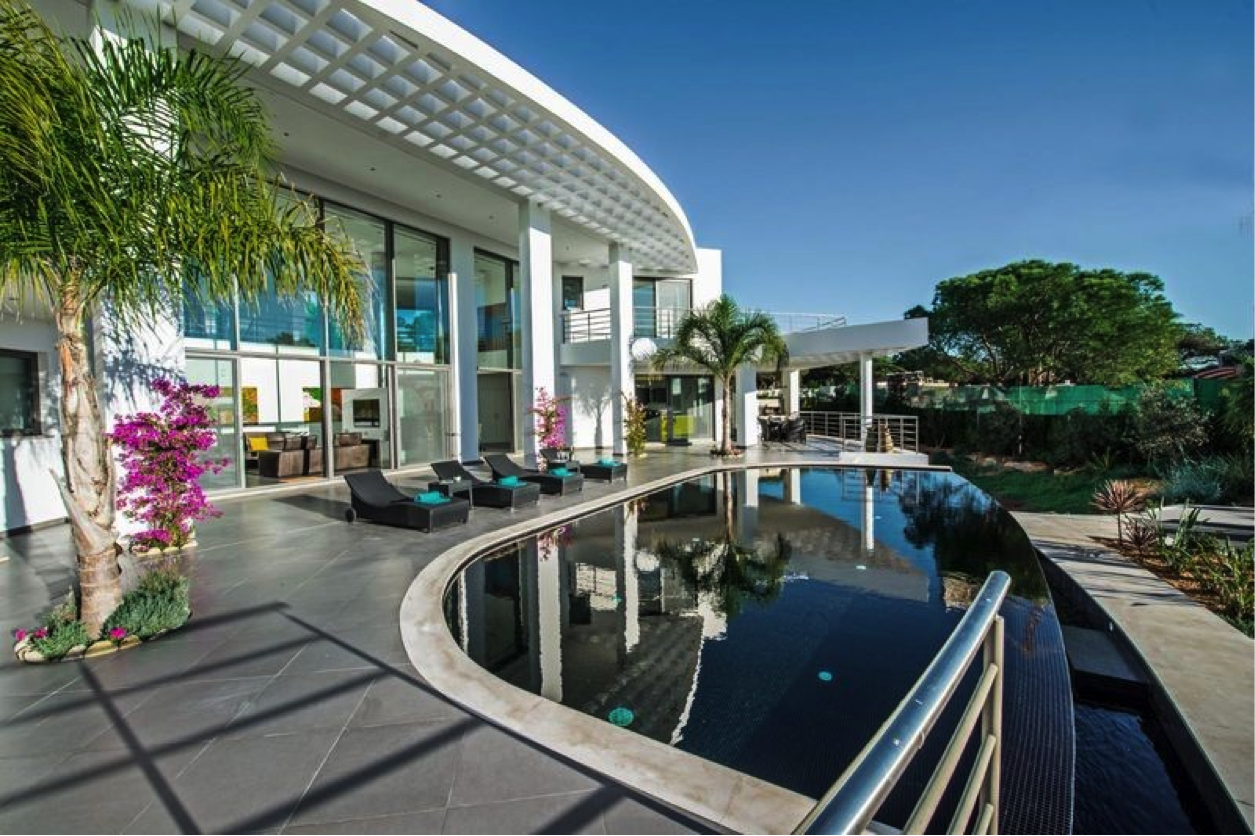 A stunning six bedroom villa within Quinta do Lago, the Algarve's number one golf resort
Located in a quiet spot towards the 2nd hole, this stunning six bedroom villa is a perfect example of Quinta do Lago real estate. The interior design lends itself perfectly to the modern architecture where floor to ceiling glass walls, mezzanine landings and a designer kitchen are the immediate stand out features within this three storey home. On the outside of course it's all about the inviting infinity pool and expansive terrace, the perfect place to relax and absorb the tranquility of your surroundings.
In terms of the accommodation, the upper level is home to an impressive master suite and 4 additional guest suites, whilst on the lower level you can find the incredibly spacious open plan living and dining room, a formal lounge, snug and office. Down in the basement level, not only is there a huge garage but the ample size of this property means there is still space to house a gym, home cinema, wine cellar, storage area and nanny/staff suite.
Currently on the market for £5,500,000 (6,250,000€), this incredible Quinto do Lago villa is sure to tempt those looking for the ultimate in luxury resort living.
The £4m Boutique Hotel in Vilamoura
Despite being one of the largest private tourism resorts in Europe, Vilamoura's classy and elegant atmosphere makes this one of the finest resort towns in the Algarve. Everyday life is very much focussed around the marina area which is home to a wide range of restaurants, bars, shops and designer stores. A veritable hang out amongst the trendsetters of the world.
The 1000 berth marina naturally appeals to wealthy yachtsmen and that in itself is enough to attract a particular clientele to the area. Famous local residents include footballers Cristiano Ronaldo and Teddy Sheringham as well as golfer Padraig Harrington. In the marina itself, Portugal's number 3 footballer of all time Luis Figo has his own bar (Bar Sete) often frequented by some of his legendary footballing friends including former Real Madrid teammates Zinedine Zidane and Raúl.
On either side of the marina you will find some stunning beaches with Praia da Marina (or Praia de Vilamoura) to the east and Praia de Rocha Baixinha to the west. Both are glorious stretches of golden sand offering plenty of facilities such as sun loungers, beach bars and water sports.
Click image for further information: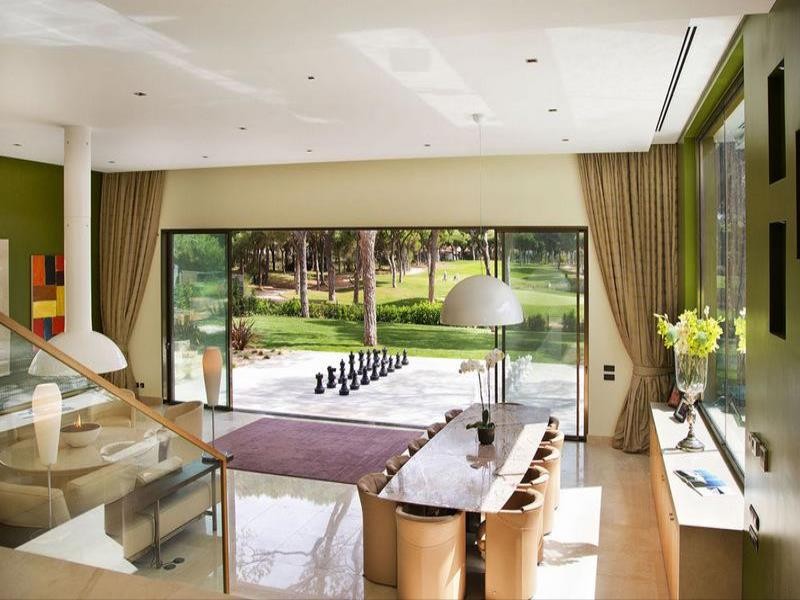 Luxury, comfort and entertainment on the green in Vilamoura
Vilamoura is also home to several championship golf courses and if you are looking for a stand out piece of real estate then this 13 bedroom property is certainly well above par. Perhaps better described as a boutique hotel due to its size and design, this huge villa enjoys a living area of 1200m2 resting within fully landscaped gardens of 5000m2.
The property is divided into three distinct blocks which are predominantly constructed from Portuguese limestone, copper and wood and although each one is very different in appearance, they all manage to work in harmony with the local environment.
The main accommodation includes an impressive 3 kitchens, 13 bedrooms and 4 reception rooms as well as a spa, gym, wine cellar and 12 seater cinema. There is a real focus on enjoying an outdoor existence and the magnificent pool features a hot tub, water slide and diving board whilst the separate sunken Moroccan reading lounge allows you to retreat from the sun and relax in style. You can even enjoy a game of giant chess, proof if ever it was needed that this property really does have everything.
No expense has been spared and the villa is fitted throughout with only the best Italian and German fittings and furniture including SieMatic kitchens with Gaggenaux appliances, Rolf Benz furniture and Wackenhut wardrobes. The art is by well known Irish artists such as Sean Scully, Kieran Lennon, Stephen Forbes and Graham Knuttle as well as the odd Damien Hirst and a Led Zeppelin Pop Art installation.
Currently on the market for £4,620,000 (5,250,000€), this incredible Vilamoura property is a genuine oasis of luxury, comfort and entertainment where no detail has been overlooked or neglected.
£3m Golf and Sea Views in Vale do Lobo
It would be impossible to talk about million pound properties in the Algarve without mentioning Vale do Lobo, Portugal's first and largest luxury family, golf & beach resort. Ideally located just 20 minutes from Faro International Airport, Vale do Lobo is set within an area of unspoilt natural beauty and golden coastline, where the world class facilities are perfectly catered for you whether you're a family, couple or group.
The resort's 2km long golden beach is simply stunning with its impeccable sand, clear Atlantic waters and emblematic natural cliff backdrop. If you're more of a swimming pool fan then there are two pools in the complex, including a child friendly pool, as well as towel and lounger rental, changing facilities and of course, that all important poolside bar for a cheeky afternoon cocktail.
The Tennis Academy is one of the largest in Portugal with 10 hard courts, 4 synthetic grass courts, mini-tennis and paddle tennis court. Golfers are naturally well catered for with not one but two championship golf courses on site and in addition there's an impressive 15 restaurants within the resort as well as numerous bars, a wellness centre, shops, boutiques and even an art gallery.
The Proprietor's Club is a service exclusively available to homeowners and provides residents with a dedicated reception area and Club of Clubs Members Lounge. Here you can also organise assistance with your functional needs such as housekeeping, garden and pool maintenance and security services.
Click image for further information: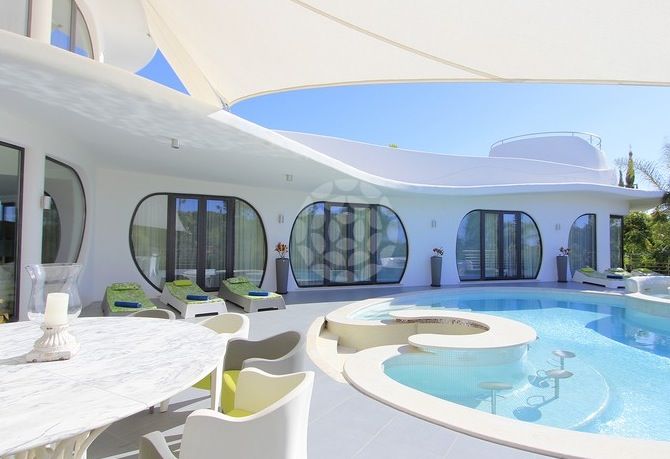 A unique and contemporary home at the heart of Vale do Lobo
This spectacular 5 bedroom villa in Vale do Lobo boasts a unique and contemporary design with an interior which is every bit as luxurious as you would expect. The ground floor boasts an open living room, dining area and kitchen layout with each of those areas enjoying views out over the stunning pool and terrace area. The four guest bedrooms are also located on this floor, discreetly accessible from a separate corridor area.
The feature spiral staircase takes you up to the first floor where the impressive master suite occupies the whole level. Alternatively, you can go down to the basement level which is the entertainment hub and home to a bar, games room, spa area, cinema room, gym, lounge and office space.
Currently on the market for £3,476,000 (3,950,000€) this modern Vale do Lobo home is the true epitome of distinguished Algarve living.
The £2m Stylish Villa in Atalaia, Lagos
Located on the Western Algarve, Lagos is not only one of the region's most attractive and historic towns, it's also home to some of Portugal's best beaches and thankfully, there are plenty here which means that even in the height of summer there's plenty of room for everyone.
Meia Praia is the largest beach in Lagos and despite being an impressive 4 km long it has somehow managed to maintain a beautifully low-key atmosphere with just small beach cafes and bars dotted along. Porto de Mos on the South West side of Lagos is a great alternative for those who prefer to be away from the city centre and heading further along to Sagres you can catch some serious waves in what is considered to be the best surfing spot certainly in Portugal, if not Europe.
Click image for further information: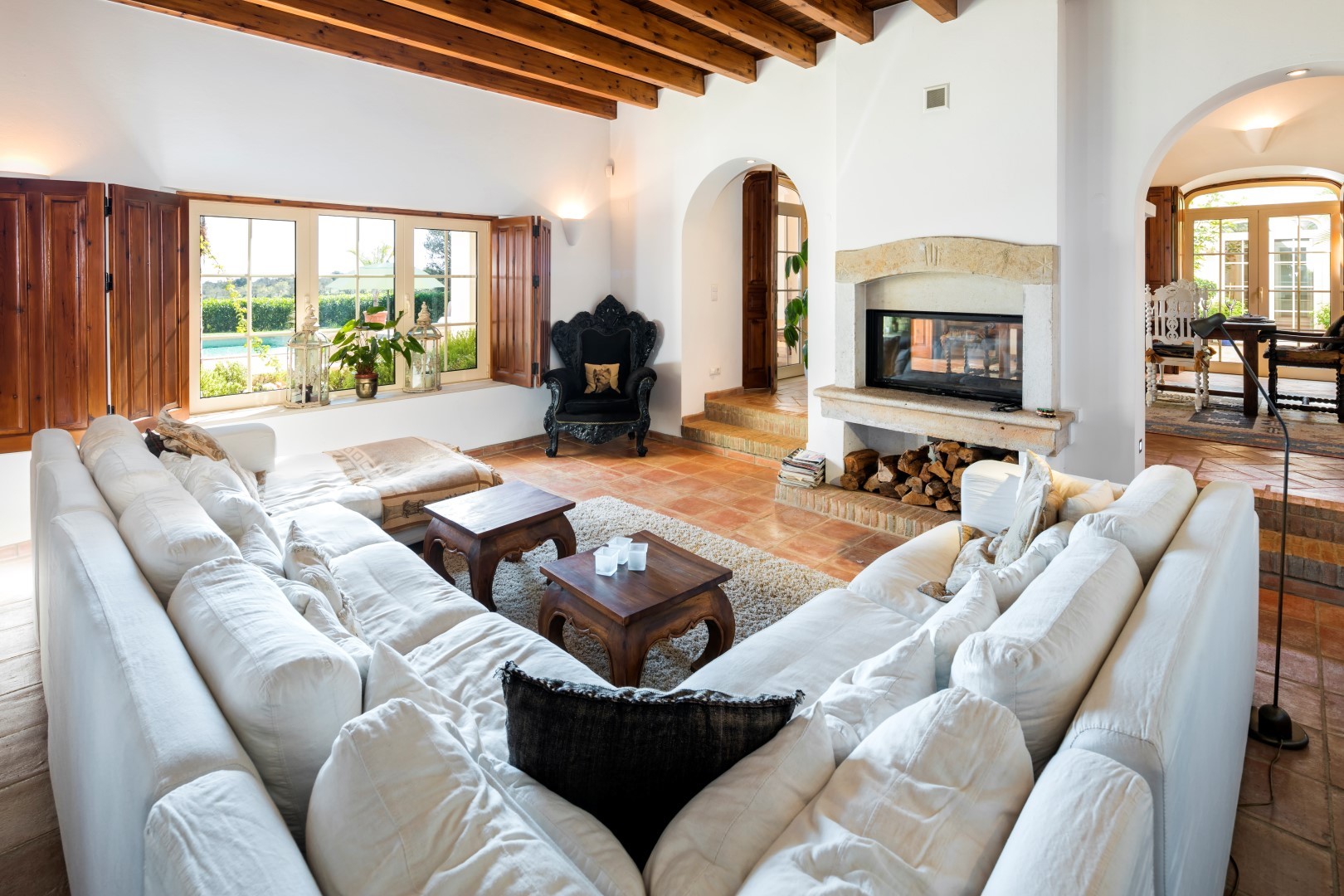 A magnificent 4 bedroom manor house with classic, Moorish influence
This brand new 4 bedroom villa in Lagos' Atalaia captures the true essence of this region's fiercely Moorish history. Stylish and spacious, the classic design uses traditional construction methods and craftsmanship that are true to original Algarve properties.
Exquisite attention to detail has been paid throughout and the 600m2 living space features natural stone tiling, cooling white walls and contrasting beamed ceilings. The large kitchen is furnished with high tech appliances whilst the dining area leads directly out to the stunning pool and landscaped gardens. The master wing boasts its own sitting area and bedroom suite which includes a luxury jacuzzi and steam room.
The large mezzanine level with its solid wood flooring is home to a library, office and artists room, the perfect place to capture the magic of Atalaia. There are also 2 large ensuite bedrooms and a further guest apartment with separate entrance.
Currently on the market for £2,816,000 (3,200,000€) this classically elegant property in Atalaia has all the modern amenities any family could wish for.
The £1m Country Club Home
Last but no means least, our countdown takes us to Alcantarilha, a peaceful town set inland from Central Algarve's coastline. The old part of the village remains largely unchanged with traditional whitewashed houses and narrow cobbled streets and whilst new developments are cropping up, they are respectfully in tune with the history and values of the old town.
Alcantarilha's award winning Amendoeira Golf Resort is set within an area of outstanding natural beauty close to the historic town of Silves and the sandy beaches of Armação de Pera, making this a great base for not only enjoying the facilities within the resort, but also exploring the local area.
The Amendoeira Golf Resort is home to two championship courses, the Oceanico Faldo Course and the Oceanico O'Connor Jnr, as well as the Oceanico Academy 9 hole course and the Amendoeira Golf Academy and Fitting Suite which offers state of the art practice facilities.
Real Estate within the resort is a selection of high specification modern apartments and villas where great emphasis is placed on exceptional interior design. So much so in fact that the design team consulted with over 20 international furniture companies in order to source only the very best in style, quality and durability.
Click image for further information: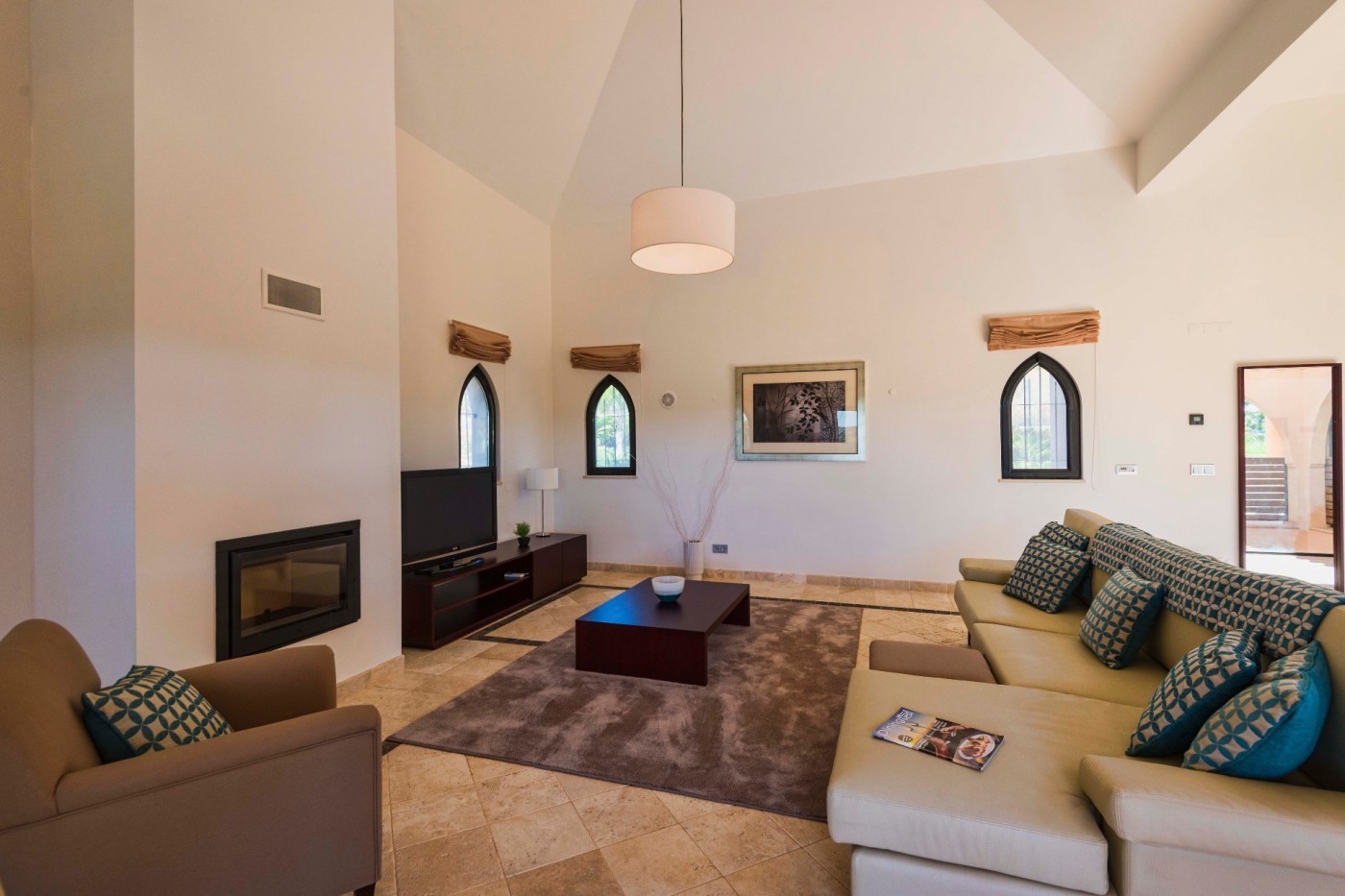 Distinctive Moorish elegance in the Amendoeira Golf Resort
Architectural Moorish influences are abundant in this beautifully presented 4 bedroom and 4 bathroom property which features high domed ceilings, elegant cathedral style windows and secluded terraced archways.
The stunning terracotta exterior contrasts beautifully with the cool neutrals of the interior where all your needs are catered for from the obvious essentials such as full air conditioning throughout, to the more indulgent touches such as electric shutters and LCD televisions.
Set on a plot of over 4000m2, the beautifully landscaped gardens with private pool and large terrace areas offer the perfect place to relax and enjoy all the comforts of your five star surroundings.
Currently on the market for £1,086,272 (1,234,400€) this fully furnished, turn-key property on the Amendoeira Golf Resort is ready and waiting for you.
Further Information
For more information on any of the properties featured in this article, please follow the appropriate link or click on the relevant image(s) to complete an enquiry form. Alternatively, please follow this link to search for more luxury property for sale in the Algarve from the Prestige Property Group.
For any other enquiries, please contact us here.