Please follow this link to search for Luxury Property For Sale from the Prestige Property Group.
You know what they say about all work and no play and even the world's highest earners need some downtime every now and then. From Clooney to Rooney, discover the favourite destinations of the rich and famous as we explore some of the most talked about celebrity homes abroad.
Italy: A Firm Celebrity Favourite
Perhaps one of Italy's most famous seasonal inhabitants is Dr Ross himself, George Clooney. George, Amal and their yet to be seen twins spend their summers in their stunning eighteenth-century villa in Laglio, on the western shore of Lake Como.
Clooney purchased Villa Oleandra back in 2002 for a cool €11.7m and as well as an impressive 25 rooms, this luxury estate also includes an outdoor theatre, swimming pool, tennis court, full gym, large garage to house his many motorcycles and perhaps most importantly, a pizza room. Now I have no idea what a pizza room is exactly but I most certainly need to find out!
Of course Lake Como is well known for its many expensive celebrity homes as these Italian shores provide the perfect hideout. In fact, with George whipping up quite the frenzy when he first arrived, not only did he buy the neighbouring property to ensure his privacy, but the city council also approved an ad hoc regulation which bans anyone from setting foot within 100 metres of his properties, including by boat.
Click image for details: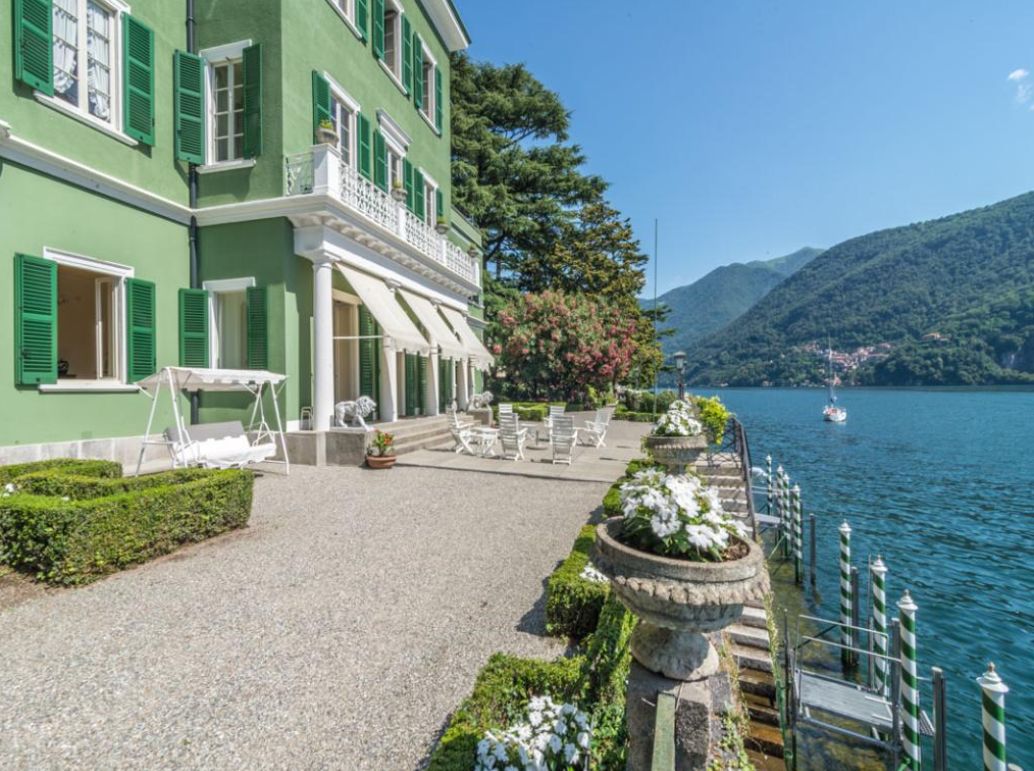 If you want a taste of the celebrity lifestyle then this superb Laglio villa with direct access to the lake and private port could be the perfect place to relax and unwind in the summer. And along with George and Amal, you can also count Sir Richard Branson among your immediate neighbours. Well, if it's good enough for them…….
The Eternal French Love Affair
Whilst there are of course many, many beautiful places on earth, there is something undeniably enchanting about the South of France and I for one, just can't get enough. Perhaps it's the crystal clear Mediterranean Sea, or the lush green rolling countryside, or could it be the plentiful vineyards and delicious local wine?! Whatever it is, it would appear I am not alone as the French Riviera is certainly a hot favourite celebrity homes destination.
The French Riviera's three Caps, Cap d'Ail, Cap Ferrat and Cap d'Antibes are undeniably exclusive. Synonymous with luxury and glamour, local real estate is at an absolute premium so if you're looking for a classy destination in which to invest some millions, you can't go wrong here.
Russian billionaire Roman Abramovich is well known for his extravagant lifestyle and indulgent spending. No stranger to the media spotlight, in 2010 the Chelsea Football Club owner hit the headlines for taking delivery of his luxury yacht Eclipse. This, the second largest private yacht in the world, is estimated to have cost a whopping €340 million to build and needs 70 crew members to operate and serve guests.
In case Abramovich was worried that it was all eyes on the superyacht, let's not forget his enviable French mansion in Cap d'Antibes….. Introducing Château de la Croë, the former home of the exiled Duke of Windsor bought by Abramovich in 2001 for an impressive €17 million. Damaged by fire and occupied by squatters at the time of purchase, renovation costs are rumoured to have equaled the purchase price but the spectacular finished article can now include a rooftop pool, gym and cinema as part of its impressive list of particulars.
Click image for details: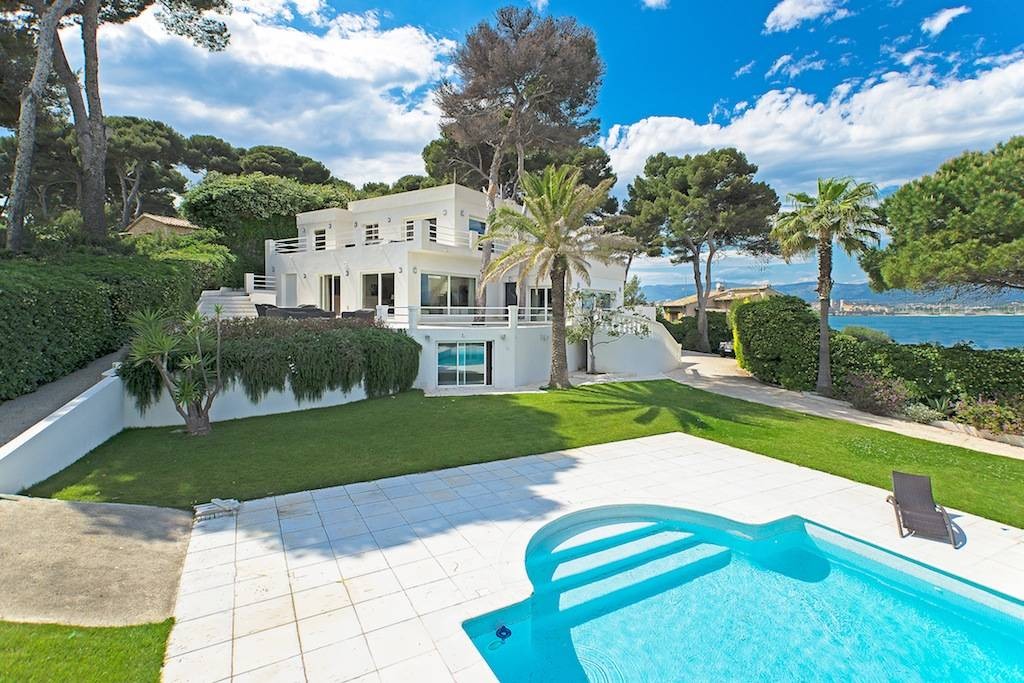 If the French Riviera is on your radar, you can enjoy a taste of the billionaire lifestyle in this gorgeous Cap d'Antibes villa which would rival any of the local celebrity homes. You might even bump into Elton John, Bono or even Rod Stewart who all own homes nearby. This is one seriously rocking neighbourhood!
Viva España!
Spain is a firm favourite holiday destination for people from all walks of life. The rich and famous splurge on some seriously luxurious real estate here, the wannabes hang out on the beaches desperate to be papped, and the many normal folk hunt out holiday home bargains. With such vast differences in both the regions and the visitors, there is certainly a little bit of España for everyone.
Mallorca, the largest of Spain's Balearic Islands, is home to some of the most exclusive real estate in the country so it will come as little surprise to learn that this is also somewhat of a celebrity homes hotspot.
Regular holidaymakers include Gwyneth Paltrow, Harrison Ford, Goldie Hawn, Michael Palin, Stephen Fry, Noel Gallagher, Kate Moss, Sting, Jamie Oliver and Heston Blumenthal whilst other celebs love this little island so much, they have their own place here to call home.
Michael Douglas and Catherine Zeta-Jones own a spectacular estate between Valldemossa and Deia on Mallorca's north-west coast. Despite it being on the market since 2013, there are no takers yet so when busy schedules allow, you might spot this Hollywood power couple walking the island's beaches or relaxing on their private yacht.
The Spanish royal family King Felipe VI and Queen Letizia have used Mallorca as their official holiday destination for years. In fact, the King has been coming here since he was just five years old. Having the option of spending their time either in the capital's Palace de l'Almudaina in Palma or the Marivent Palace in Cala Major, as keen sailers, the Royals can often be spotted at one of the many Mallorcan bays brushing up on their skills.
Sir Richard Branson has also come back to the island. Having sold his original hotel La Residencia in 2002 when expansion plans were blocked, it would appear that he just can't keep away and he now owns two villas in Son Bunyola, which are let and managed under his Virgin Limited Edition brand.
Click image for details: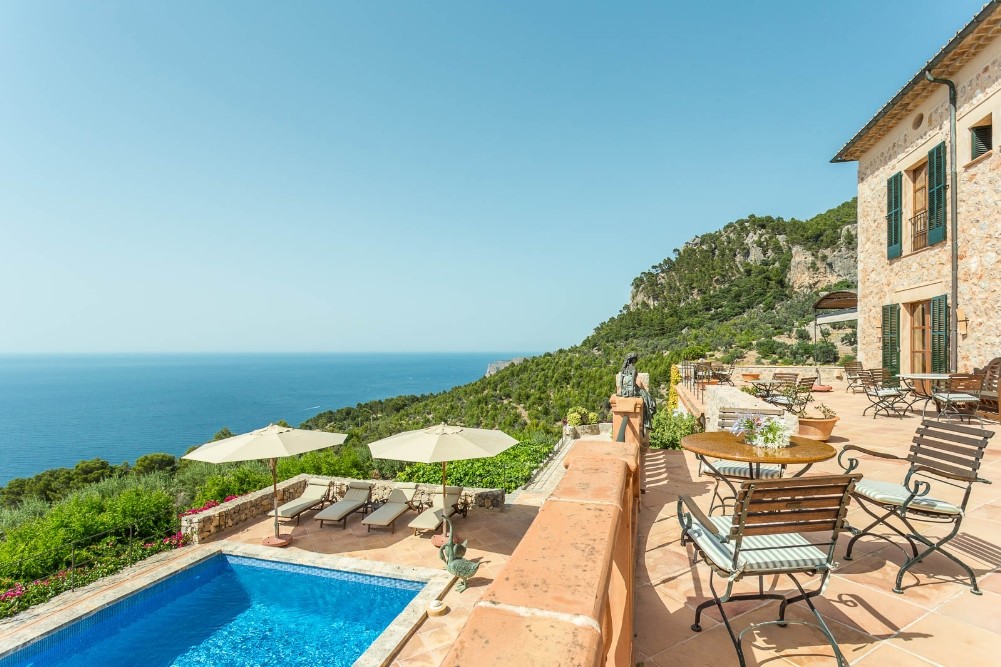 Of course, if you want something more permanent than a two-week stay courtesy of Sir Richard, then you could do a lot worse than this luxurious villa. Located in Deia and boasting fantastic Mediterranean Sea views, this is a perfect home that even the most well-known celebrity will be envious of. But not Suzi Quatro, Pierce Brosnan, Claudia Schiffer or Annie Lennox though as they all have their own homes here already.
The Laid Back Caribbean Vibe
The Caribbean comes into its own as Europe heads into winter. Hurricane season is over and if the media is anything to go by, it appears that anyone who's anyone is heading to the Caribbean for some much-needed winter sun, with Barbados at the top of the destination list.
Barbados is all about the West coast, or the Platinum coast if you prefer and celebrities can't get enough of the fine sandy beaches, expansive golf resorts, luxury hotels and gourmet restaurants.
Simon Cowell comes here every year without fail and his New Year parties at the Sandy Lane Resort have got quite the reputation for becoming rather wild. The Beckham's, Gwyneth Paltrow, Hugh Grant and island native Rihanna are also fond of this five star resort and are regular visitors.
Wayne and Coleen Rooney own a magnificent mansion on the island which is also available to rent when they're not using it themselves. At a whopping £8000 a week it doesn't come cheap but don't worry, it sleeps up to 14 so you can always split the cost with your friends!
Click image for details: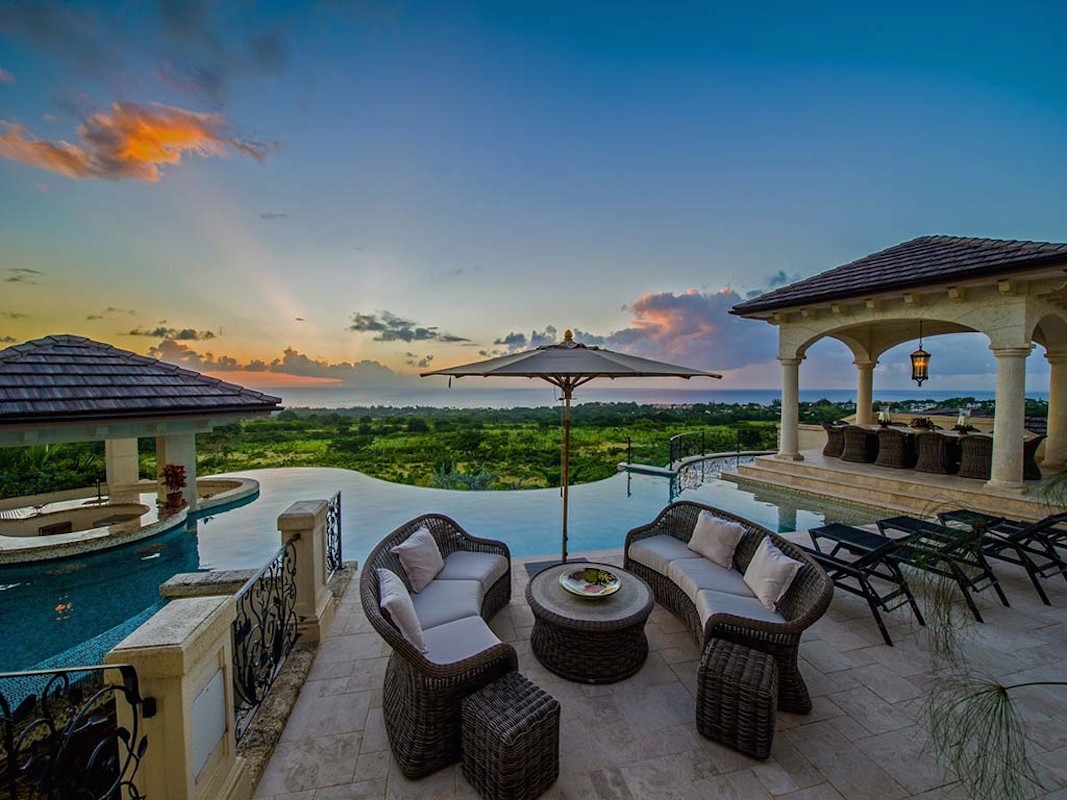 This exquisite villa in the parish of Saint James on Barbados' West Coast has the style and elegance of even the most impressive of celebrity homes. Enjoy those perfect Caribbean evenings as you watch the sun go down from the comfort of your own surroundings. Of course the price tag isn't for the faint-hearted but that's why they call this the playground of the rich and famous.
Further Information
For more information on any of the properties featured in this article, please follow the appropriate link or click on the relevant image(s) to complete an enquiry form. Alternatively, please follow this link to search for more Luxury Property For Sale from the Prestige Property Group.
For any other enquiries, please contact us here.