Please follow this link to search for Golden Triangle Property For Sale from the Prestige Property Group.
Synonymous with luxury property, world-class golf and beautiful beaches, it's easy to see why Portugal's Golden Triangle is such a well-loved and desirable destination for tourists and expats alike. As one of the countries hit the hardest by the financial crisis, discover how the Golden Triangle is not just returning to its former glory, but pulling out all the stops to shine brighter than ever before.
What Is The Golden Triangle?
The Golden Triangle is the nickname given to the area of central Algarve between the points of Almancil, Quinta do Lago and Vale do Lobo. And yes you guessed it, not only is it triangle shaped, but it is also home to what is undoubtedly Portugal's most affluent tourist area.
Taking full advantage of its own beautiful surroundings, many of the areas within the Golden Triangle have been developed as luxury resorts offering fine dining, designer shopping, and excellent sporting facilities. As you might also expect, real estate here is amongst the most expensive in Portugal.
With coast, countryside and village life all on offer, each corner of the Golden Triangle has its own unique highlights. In fact, you could perhaps argue that it is the diversity of the region that is one of its greatest appeals. So which slice of the Golden Triangle is right for you?
Quinta do Lago – Exclusivity Amongst Nature
Nestled within the privacy and security of the Ria Formosa nature reserve and with the Atlantic Ocean on one side, Quinta do Lago is an exclusive resort with an emphasis on lifestyle and well-being in the great outdoors.
With four courses, golf is naturally at the heart of the resort but there is still plenty of appeal to the non-golfer. The beach is simply spectacular and is only accessible via a beautiful wooden bridge over a man-made lagoon. The lagoon itself is home to a plethora of watersports whilst other resort highlights include an upmarket shopping centre, gourmet restaurants, and vibrant bars. There is also a fascinating range of wildlife and rare flora and fauna right on your doorstep.
In short, Quinta do Lago is the right choice if you are looking for spectacular scenery, plenty of activity, natural beauty and five-star exclusivity.
Click image for property details: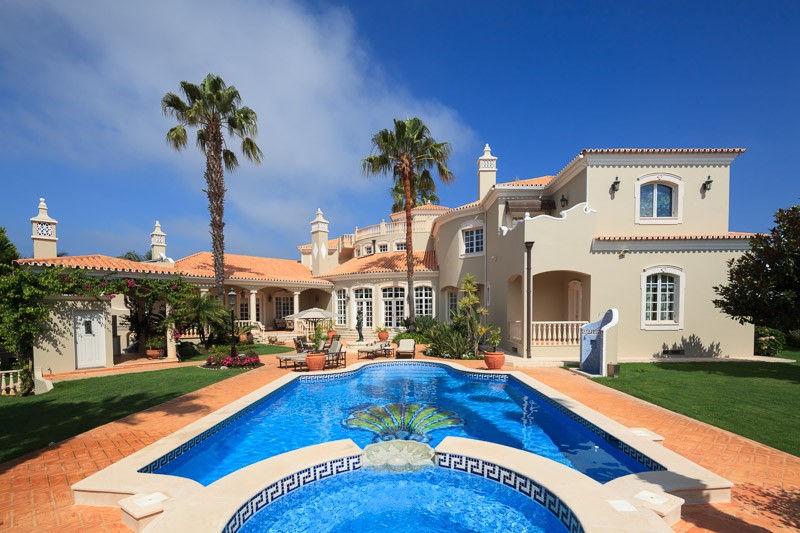 Vale do Lobo – Self Sufficient Luxury
A large resort that's still growing, Val do Lobo, boasts a thriving community with many permanent residents here all year round. Whilst many would argue that this is not the real Algarve, it is certainly one of the most convenient places you can go as everything you could possibly need to enjoy your stay can be found within the resort. From bars and restaurants, to beauty centres, shops and boutiques. There's even a medical centre and a bank here.
Located by the beach, the Praca, or plaza, is the hub of the resort and is the perfect place to watch the world go by, particularly during those long, hot, summer evenings. You might just have to indulge in a cocktail or two to cool down.
Golf fans can enjoy two championship golf courses, the Royal or the Ocean, whilst tennis aficionados can fine tune their skills in the tennis academy. If you're more of a spectator than a player, the tennis academy hosts its own annual Masters Competition which draws in big-name veterans from the world of tennis.
With a backdrop of golden sand, Atlantic surf and scenic red cliffs, Vale do Lobo might be the largest resort in the Golden Triangle, but it certainly hasn't lost its soul.
Click image for property details: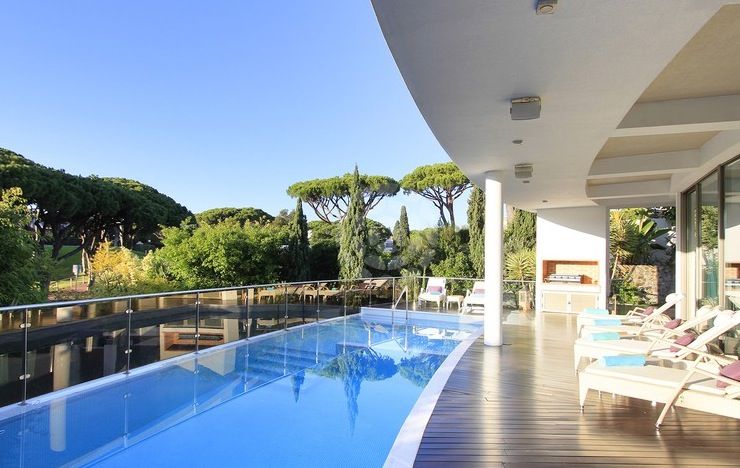 Almancil – Traditional And Charming
Almancil offers you the same easy access to golden sandy beaches and world-class golfing as Quinta do Lago and Vale do Lobo, but rather than being based within a resort, you are in a traditional, local town.
Sufficiently unaffected by the hustle and bustle of the busier coastal towns, Almancil is very family friendly with a charming yet vibrant ambience. Whilst there are some new developments here, Almancil is still home to plenty of traditional Algarvian architecture which of course you don't get in the new resorts.
An attractive destination in its own right and home to a wonderful selection of bars and restaurants, Almancil is perfect for those looking to enjoy a traditional village life in combination with the modern convenience of having large resorts on your doorstep.
Click image for property details: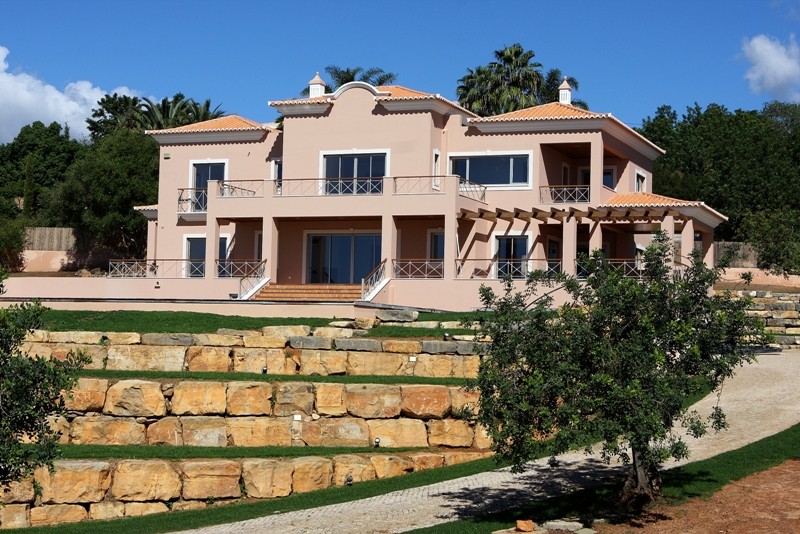 The Future of the Golden Triangle
With The Telegraph's fastest growing tourist destination list for 2017 including the likes of Palestine, Mongolia and Nicaragua, there's a lot of pressure on the more traditional resorts such as the Algarve, to keep up. They have the challenging task of needing to maintain their original charm, so as not to lose loyal fans, whilst also almost reinventing themselves to attract fresh, new crowds.
So what is Portugal doing to help the Golden Triangle stay relevant during changing times?
First of all, we can't ignore the dramatic and positive turnaround in Portugal's economic situation during recent years. Just 10 years ago it was branded as one of the PIGS – the rather derogatory acronym used by experts to describe the economies of Portugal, Ireland, Greece and Spain during the financial crisis. Today however, Portugal has well and truly shaken its porcine reputation and its successful economic resurgence has created quite the stir.
Perhaps not everyone would agree but Portugal is proof that austerity works. The economy is growing and overseas property buyers have returned. Excitement has come back to the Algarve, and the Golden Triangle is buzzing once more.
Vilamoura, already a world-class resort within the Golden Triangle, is set for a massive investment to the tune of one billion euros, making this one of the largest real estate developments in the whole of Portugal.
Already home to five world-renowned golf courses, stunning beaches, a range of luxury hotels, and the "International Marina of the Year 2015", the new Vilamoura master plan includes an incredible 18 development projects spanning 400 hectares and incorporating a full range of residential, leisure, tourism and retail units.
The Portuguese property market is in full recovery mode. Prices are stabilising and new/off-plan projects are in short supply. Furthermore, with new Golden Visa opportunities offering incredible advantages to overseas investors and mortgages being fairly cheap and accessible to foreigners, there are exciting times ahead as the Golden Triangle shines brighter than ever.
Further Information
For more information on any of the properties featured in this article, please follow the appropriate link or click on the relevant image(s) to complete an enquiry form. Alternatively, please follow this link to search for more Golden Triangle Property For Sale from the Prestige Property Group.
For any other enquiries, please contact us here.